President Trump sees Viktor Orban as a strong leader who should be engaged rather than shunned, as he was under the administration of former President Barack Obama, according to David Cornstein, Trump's new ambassador to Budapest.
"President Trump thinks that [Orban] is a very strong leader. Our president admires strong leaders, and looks forward to this relationship going forward,"  The New York Times quoted Cornstein as saying in June.
Some European diplomats and analysts see Trump's pivot in Hungary as an effort to divide the European Union which Trump regards as a strong economic competitor.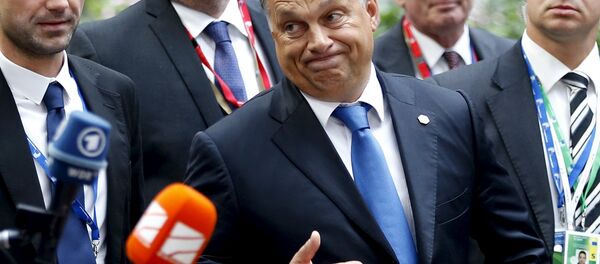 Donald Trump has repeatedly criticized the EU union, even calling it a trade "foe," while simultaneously heaping praise on Europe's populist forces.
In February, US Secretary of State Mike Pompeo met in Washington with his Hungarian counterpart, Peter Szijjarto, ending a six-year hiatusbreak in high-level contacts between the two countries.
During the meeting, the Hungarian foreign minister said that "the government of Prime Minister Viktor Orban is a 'natural ally' of the Trump administration, one that is willing to challenge the liberal orthodoxy within the European Union that has been sharply critical of his government and the Trump administration."
In June, Donald Trump had a telephone talk with Viktor Orban – something his predecessor, Barack Obama, never did.
Shortly after, A. Wess Mitchell, appointed as assistant secretary of state for Europe and Eurasia, outlined Washington's new approach to Hungary. He blamed the Obama administrations for "losing strategic influence" to Russia and China in many regions of the world, including Central and Eastern Europe adding that Washington needed to better balance engagement with "necessary criticism" in order to keep countries like Hungary in the Western fold.
READ MORE: Orban Voices Determination to Build 'Christian Democracy' in Hungary
Viktor Orban, who was re-elected for a third term as Hungary's prime minister,  has vowed to rally right-wing forces in next year's elections to the European Parliament and tilt the EU toward what he calls "illiberal democracy."
An avowed Eurosceptic, Orban has refused to take part in the EU's refugee resettlement program, has cut income taxes and is pursuing pro-growth economic policies.