US Treasury Secretary Mnuchin has pointed out that Washington is ready to impose a new batch of sanctions on Turkey if the country refuses to free detained American pastor Andrew Brunson.
"We have more that we are planning to do if they don't release him quickly," Mnuchin said during a meeting of President Donald Trump's cabinet.
Turkey intends to get over an economic downturn, caused by the US actions, together with its allies, including Russia, according to Turkish Foreign Minister Berat Albayrak, who Thursday addressed over 6,000 international investors in a video conference.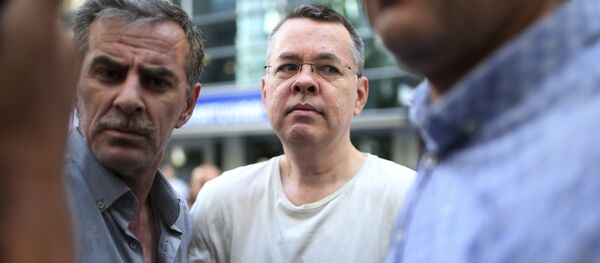 15 August 2018, 22:06 GMT
"The US introduced sanctions against a plethora of states around the world. In response to such moves, it is necessary to take well-coordinated joint steps. Turkey will overcome this together with Germany, Russia and China,"  the news portal Mynet cited the minister as saying. The official went on to express certainty that the republic will become even stronger while battling the downturn.
Last week, Trump announced a doubling of tariffs on imports of Turkish steel and aluminum in a tweet that contained an oblique reference to deteriorating relations between Washington and Ankara — a reference that was widely interpreted as further retaliation for Brunson's detention. Turkey has so far rejected Washington's latest appeal for the release of Brunson and imposed retaliatory duties on US products.
The US pastor, who worked in Turkey for many years, was arrested two years ago for his alleged ties to the movement founded by Islamic cleric Fethullah Gulen, whom Ankara has accused of planning the 2016 failed military coup. Brunson was subsequently released from jail and placed under house arrest.