The firm was also told to repair the collapsed viaduct "in a limited period of time" and warned that in case of a failure it would be found in violation of the concession agreement with authorities.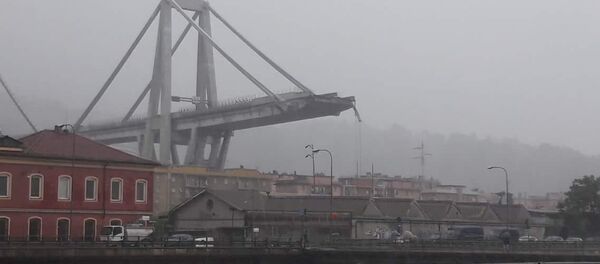 16 August 2018, 15:04 GMT
A special commission was set up earlier in the day to look into Tuesday's disaster, in which a 80-meter-long section of the bridge collapsed, sending more than 30 cars plunging dozens of meters to the ground. At least 38 people died and an unknown number are missing.
The bridge collapsed during a storm on Tuesday at about 11 a.m. local time (09:00 GMT). A section of the bridge fell from a height of 100 meters (328 feet) on warehouses, railway tracks and a river.
The Italian government has since imposed a year-long state of emergency in the Liguria region, where the bridge is located, and allocated 5 million euros (some $5.7 million) to manage the consequences of the incident.
Italian Prime Minister Giuseppe Conte slammed Wednesday Autostrade per l'Italia company for its safety regulations, saying that the firm's concession should be revoked.
The state funeral of the victims will be held in Genoa on Saturday. On that day, nationwide mourning will be declared in Italy.
WATCH: Aftermath of Genoa Bridge Collapse Captured From a Bird's Eye View