New Delhi (Sputnik) — Delegations from various Asian countries, including Pakistan, attended the funeral of former Indian Prime Minister Atal Bihari Vajpayee in New Delhi on Friday. The funeral procession that began at 1:00 p.m. local time will culminate in the last rites set to be performed at 4:00 p.m. at the Smriti Sthal memorial site in the heart of the city.
Bhutan's King Jigme Khesar Namgyel Wangchuk has himself come to New Delhi to pay his last tribute to the departed leader. Imran Khan, Pakistan's prime minister-in-waiting, has sent a delegation led by the country's Information and Law Minister Barrister Ali Zafar to participate in the funeral while Nepal's Foreign Affairs Minister PK Gyawal, Sri Lanka's acting Foreign Minister Lakshman Kiriella, Bangladeshi Foreign Minister Abul Hassan Mahmood Ali also attended the procession. Singapore's high commission in New Delhi has postponed its National Day reception that was scheduled for Friday in honor of the funeral.
​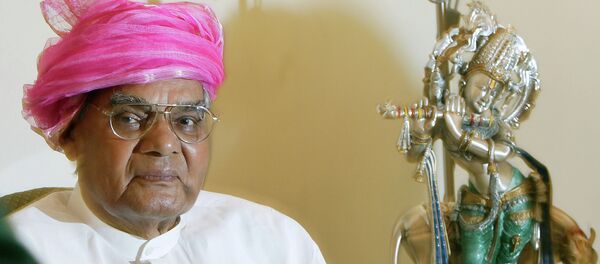 16 August 2018, 12:27 GMT
Atal Bihari Vajpayee was the first and only Indian prime minister to travel to Lahore in an effort to build bridges with Pakistan. In their tribute to the visionary leader, Pakistan did not forget to remind the present Indian establishment about Vajpayee's vision for SAARC (South Asian Association for Regional Cooperation) nations.
"Mr. Vajpayee was a renowned statesman who contributed to bringing a change in India-Pakistan relations and remained a key supporter of SAARC and regional cooperation for development," Pakistan's Foreign Affairs Ministry statement reads.
In 2016, following a series of terror attacks on Indian military camps, New Delhi pulled out of the SAARC summit and the grouping has not been able to hold an annual summit since then. Pakistan on Thursday once again said that it is ready to host a summit to make headway on regional matters.
Vajpayee passed away at the age of 93 following a prolonged illness on Thursday in New Delhi. Three-time Prime Minister Vajpayee — a right-wing leader having friends and admirers across party lines — was first sworn in as prime minister in 1996 and after less than two months in office, he shook the world by sanctioning three nuclear tests to establish India as a nuclear power. 
Prime Minister Narendra Modi wrote an emotional blog for the departed leader, describing him as "guiding spirit, providing vision, cohesion, and direction to his people".