On Friday, the US Navy publicized the USS Reagan's departure earlier this week from its homeport in Yokosuka, Japan, according to USNI News. The aircraft carrier leads a strike group that includes the USS Antietam and sea assets from Japan's MSDF. The two naval forces are conducting bilateral training in the Philippines Sea, USNI News noted.
According to Stars and Stripes, the guided-missile destroyer USS Milius is also traveling with the group of ships. The destroyer changed homeports from San Diego, California, to Yokosuka, Japan, in May after being equipped with the upgraded Aegis Baseline 9 combat system in southern California, USNI news reported.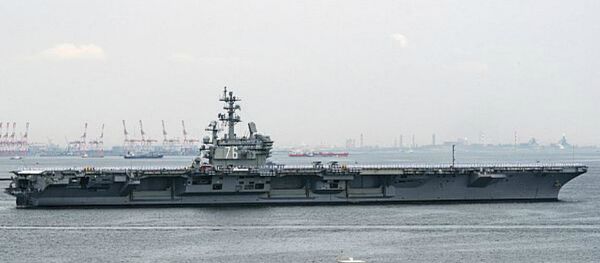 Japanese personnel arrived on board the aircraft carrier "to improve the tactical skills of both maritime forces," the US Navy said this week. Other components of the patrol included live-fire drills from the USS Antietam. Japan's JS Kirishima destroyer is participating in the drills, and it is also the first Japanese ship to participate in the US Navy's Aegis Ballistic Missile Defense mission, according to the US Missile Defense Agency.
The USS Reagan and its accompanying ships previously completed a patrol mission with Japanese and Indian counterparts "in the US 7th Fleet area of operations," the commander of the fleet said July 23.
In other USS Reagan news, one of the sailors who was stationed aboard the carrier, Petty Officer 1st Class Gilbert Sandoval, was convicted on six charges of attempting to initiate sexual activity with children on Wednesday, Stars and Stripes reported.