Rome also refused to accept the migrants with Interior Minister Matteo Salvini having demanded to find solution of the problem at the EU level and threatened to send the refugees back to Libya if no solution is found.
Meanwhile, the Italian Foreign Ministry asked the European Commission to take immediate measures to solve the situation, the ministry's request obtained by Sputnik said.
"Amid the situation around Diciotti, the Italian Foreign Ministry officially and formally informed the European Commission about this issue so that the latter takes the necessary measures in order to find a solution in line with the principles of distribution [of migrants] among the EU member states adopted by the EU Council in June 2018," the ministry's statement said.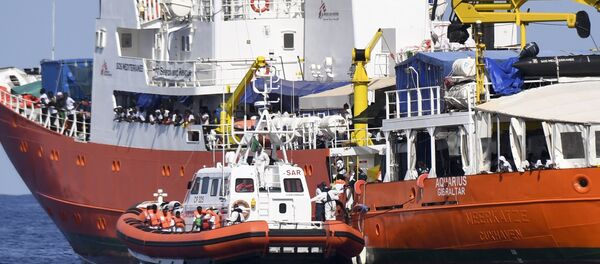 13 August 2018, 20:01 GMT
The Italian government wants the European Commission to reveal the countries that are ready to accept the migrants rescued in the sea.
Over the past several months, the Italian government, which has taken a hard-line policy on migration, denied entry to several rescue boats carrying refugees. On June 10, Italy banned the Aquarius, carrying over 600 migrants on board, from docking. About two weeks later, the nation turned away the Lifeline with its 233 rescued refugees on board.
READ MORE: EU Members May Be Paid to Keep Migrants in 'Controlled Centers'
Since 2015, Europe has been experiencing its worst migration crisis in recent history, struggling to accommodate hundreds of thousands of refugees and migrants fleeing hostilities and poverty in the Middle East and North Africa.