According to Pentagon spokesperson Col. Rob Manning, Trump reportedly pulled the plug on the parade before any member of the US Defense Department had the chance to inform him of an official cost estimate.
"The president of the United States was not briefed by any member of the Department of Defense on the cost associated with the parade, before making the decision to cancel the event," Manning told reporters Monday. "The planning committee for the parade had not reached a point where they had briefed the senior leadership in the department."
Manning later stressed that he couldn't explain why Trump ultimately decided to cancel the event, referring reporters to the White House. Over yonder at the White House, Press Secretary Sarah Huckabee Sanders indicated that both White House Chief of Staff John Kelly and US Secretary of Defense James Mattis were aware of the hefty price tag and spilled the beans to Trump.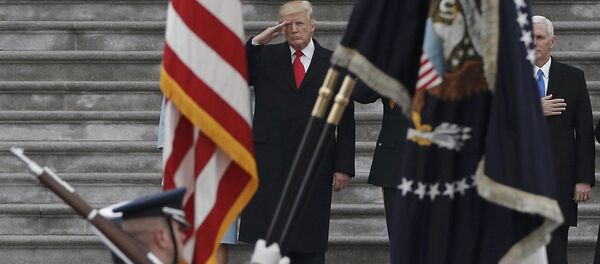 17 August 2018, 12:29 GMT
"Secretary Mattis briefed the president on the parade a couple of weeks ago, and the following day, Gen. Kelly briefed him on the costs of what Sec. Mattis had laid out," Sanders explained to The New York Post.
Sanders issued the statement following media reports that indicated Mattis had scoffed at the $92 million estimate by publications.When questioned about the amount during his trip to Colombia, Mattis told reporters that whoever offered the estimate was "probably smoking something."
The parade, which was planned for November 10 to mark the anniversary of the end of World War I, was requested by POTUS after he was impressed by France's celebration of Bastille Day, the French holiday celebrated on July 14. Upon returning to the US, 45 proceeded to request that government officials draft some options for holding a similar event in the nation's capital.
Trump's request was widely criticized by US officials, who quickly called the move unnecessary, citing high costs for the parade and securities needed for the event. The August 16 CNBC report which initially provided the $92 million figure indicated the Pentagon would need to fork over roughly $50 million for the transportation of aircraft, equipment and personnel for the event. The remaining $42 million would be covered by interagency partners, including the Department of Homeland Security. This report came after the cost was previously estimated to be $12 million, according to three US defense officials cited by CNN in July.
In tweets announcing the parade was no more, Trump declared that there was still a chance the event could take place next year, adding that he now plans to attend a parade at Andrews Air Force Base.
​However, it should be noted that the only upcoming event to take place at the base is an air show scheduled for May 2019, Military.com reported, citing Pentagon officials.