The Minister praised Australia's migration policy, which includes offshore processing for asylum seekers sent to detention centers to the nearby islands.
"My goal is Australia's No way. Only illegal migrants are on Diciotti [rescue ship]… No one will come ashore from Diciotti with my permission. I promised to protect the borders and the safety of the Italians. I have been doing this for two months and will continue to do so," Salvini said.
This interview came amid a recent conflict around a migrant rescue ship Dicciotti, which docked in Sicily on Monday. Salvini refused to accept any migrants and called on the European Commission to distribute them among several countries.
READ MORE: Italian Deputy PM Banned from Spain's Mallorca for His Stance on Migration
He urged the European Union to look into Malta's policy regarding migrants, citing testimonies of refugees saying that Maltese seamen were guiding them to the Italian waters and leaving there to fend for themselves. Malta claimed that the migrants were just heading to Italy through Maltese waters.
Diciotti is currently in Sicily's port of Catania, and the migrants are still aboard, waiting for a decision. Italy has allowed some 30 minors to disembark the vessel.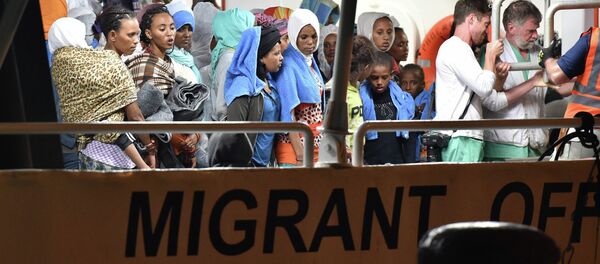 14 August 2018, 06:01 GMT
On Wednesday, the Maltese government said in a statement that the country always adhered "to international laws and applicable conventions," and that the authorities had contacted the Italian government in order to "fulfill their pledged commitments as soon as possible," but had not been provided with "any tangible procedure… to follow."
Over the past several months, the EU states, namely, Malta, Italy, and Spain, have been at odds over the migrant rescue vessels issue, as there has been an influx of migrants aspiring to enter the European Union by sea, but the Mediterranean states have taken a tougher stance on the new arrivals.