"We draw attention again to the flights of unidentified helicopters in the north of Afghanistan, delivering weapons and ammunition to local Daesh militants and Taliban* fighters, who are cooperating with the Daesh* terrorist group. According to the statements by the Afghan media and local residents, such flights have recently been recorded in the province of Sari-Pul," Russian Foreign Ministry spokeswoman Maria Zakharova said Thursday.
READ MORE: Kabul Confirms to Sputnik It Won't Attend Moscow Conference on Afghanistan
She also noted that neither the Afghan military nor NATO forces had addressed those flights, which were carried out close to the borders of Central Asian countries.
"There is a question – who is behind those flights, who provides weapons for the terrorists and creates their bases close to the southern borders of the CIS countries, and why does this occur in Afghan airspace controlled by NATO forces?" Zakharova added.
These statements come just a few weeks before the start of Moscow-format consultations on Afghanistan, slated to be held in September.
Terrorists in Syria
Addressing questions about the current situation in Syria, Zakharova accused Washington of collaborating with various militant groups in order to create "faux state structures" in the region.
"Neither the Syrian authorities nor the UN have access to the largest camp of temporarily displaced people [Rukban] near the Syrian border with Jordan," the diplomat said. "Among the civilians trapped there, several hundred Daesh militants, as well as al-Nusra militants, who have heavy weapons, are hidden, using civilians as human shields. Unfortunately, all this is happening, and we have factual information that confirms these reports, with the knowledge of the US military that controls the 55-kilometer zone around its illegal base at al-Tanf in Syrian territory."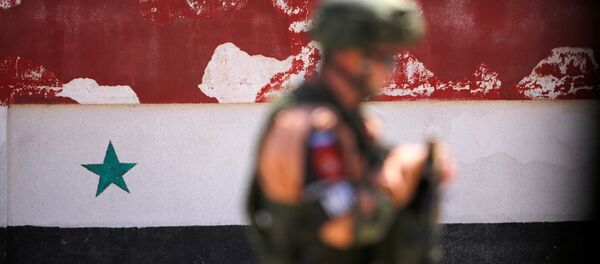 22 August 2018, 11:49 GMT
The US has occupied a 54 km zone around the US military base at At-Tanf, where the US-led coalition has been training Syrian armed opposition forces. The situation at the nearby US-controlled Rukban refugee camp has been called a
"humanitarian disaster"
and is estimated to contain upwards of 60,000 refugees.
The US-led coalition has been carrying out airstrikes against Daesh targets in Syria since 2014. The coalition's operations have not been approved neither by Damascus nor by the UN.
*Daesh (also known as IS/ISIS/ISIL/Islamic State) and Taliban are terrorist groups banned in Russia.