New Delhi is in talks with EU members as it looks for ways to get around US sanctions on Iran, which jeopardize oil supplies to India, the local broadcaster NDTV reported Friday, citing government sources on Friday.
Simultaneously, New Delhi is trying to get across to Washington its concerns about how its sanctions against Tehran may slow down the Indian economy.
"As the US continues to mount pressure on its allies to join its  unilateral sanctions on Iran, Iran's major energy customers, including China and India, have indicated their defiance to the US' request," one of the sources told the broadcaster.
According to information released by India's Oil and Gas Ministry in July, Iran has become the third-largest oil supplier for India, ahead of Saudi Arabia.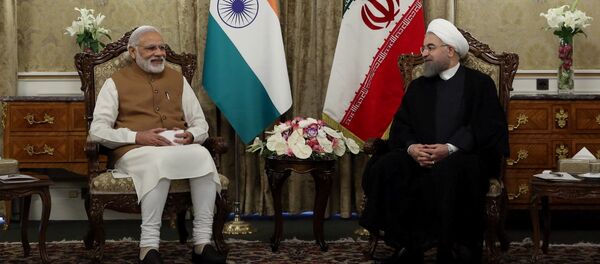 21 August 2018, 16:08 GMT
Between April and June, Indian oil refineries received 5.67 million tons of crude from Iran in addition to the 9.8 million tons supplied  over the previous 12-month period.
The United States, which pulled out of the 2015 nuclear deal with Tehran, has been trying to persuade its allies, including India, to bring down to zero their oil imports from Iran before the November 4 deadline.
Iran considers Washington's demands inappropriate and expects other countries to ignore them.
The Indian government has barely commented on the situation saying only that it will do all it takes to ensure the country's energy security, "including by coordinating its steps with all parties concerned."
India is likely to take up the issue with US Secretary of State Mike Pompeo and Defense Secretary James Mattis when they visit New Deli next month, NDTV reported.
READ MORE: India's Crude Imports From Iran Jumped 48% in June Despite US Pressure —Minister
On May 8, President Donald Trump said he was withdrawing the US from the nuclear agreement with Tehran and promised to impose the "highest level" of sanctions on the country's energy, petrochemical and financial sectors despite objections from Europe as well as Russia and China which  have repeatedly defended the deal.
Germany, Britain and France condemned Washington's move and the European Union pledged to protect the interests of European companies that could suffer as a result of the new US sanctions on Iran.