Turkish President Erdogan has addressed the crisis in the country, urging the nation to stay strong in his statement to commemorate the anniversary of the Battle of Manzikert in 1071.
"As we tackle attacks against the Turkish economy today, our biggest guarantee is the commitment and determination of every member of our people to take hold of their independence, nation and future," Erdogan stressed.
READ MORE: Two Suspects Testify After Attack on US Embassy in Turkey — Reports
The statement was made in order to encourage Turks amid the recent economic problems, caused by a deterioration of relations between Washington and Ankara earlier this summer.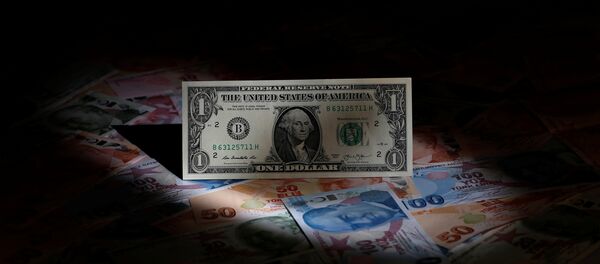 23 August 2018, 00:25 GMT
In August, the US sanctioned members of the Turkish government after an Izmir court refused to release American pastor Andrew Brunson, detained by Turkish authorities. According to Ankara, Brunson was tied to the movement of Fethullah Gulen, a cleric living in the US and believed by Erdogan to be behind the failed 2016 military coup against him.
US President Donald Trump this month also doubled the previously imposed import tariffs on Turkish aluminum and steel to 20 percent and 50 percent, respectively, while Ankara announced that it would challenge those tariffs at the World Trade Organization (WTO).