"Firstly, Syria got rid of the chemical arsenal in 2013. We never used and will not use chemical weapons," Haddad said, commenting on the claims by opposition groups, including White Helmets, about chemical attacks carried out by the Syrian government forces against civilians.
He called falsehood and misleading allegations of the US and its allies.
READ MORE: Russian MoD: Foreign Specialists Arrived in Syria to Stage Chemical Attack
"These statements will not pass, they have one pretext for everything — the use of chemical weapons, and as soon as our army, thanks to the support of friendly countries, advances to liberate our lands, the West and the United States immediately want to intervene in order to attack Syria, in order to weaken Syria and prolong the war," Haddad explained.
Preparations for Staged Attacks in Idlib
Earlier in the day, Russian military said that militants are preparing to use chemical weapons in Syria, and the US can use this as a reason for a new attack on Syrian state facilities.
Russian Defense Ministry spokesman Maj. Gen. Igor Konashenkov went further to note that militants in Syria were preparing a provocation to accuse Damascus of using chemical weapons against civilians in the province of Idlib.
He also noted that the unfounded statements by Western officials might be an indirect confirmation of the preparation of another act of aggression against Syria.
The Russian official noted the provocation was planned within the next two days in the settlement of Kafr Zita with the assistance of English-speaking specialists. USS Sullivan with 56 cruise missiles on board and US Air Force B-1B strategic bomber with 24 cruise missiles were both redeployed closer to the region several days ago.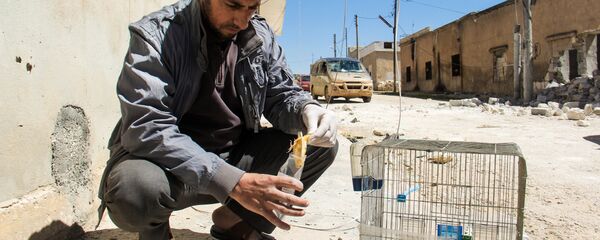 26 August 2018, 06:00 GMT
On Tuesday, on the occasion of the fifth anniversary of a 2013 chemical weapons attack in Syria's Eastern Ghouta, the United Kingdom, the United States and France released a statement warning that they "will respond appropriately to any further use of chemical weapons by the Syrian regime." The statement also called on supporters of Syrian President Bashar Assad to "use their influence to uphold the global norm against chemical weapons use." On Wednesday, US National Security Adviser John Bolton promised to respond "very strongly" if the Syrian government used chemical weapons.
In April, several opposition media reported a chemical attack in the city of Douma. However, no substantial proof was provided. In a week after these unjustified allegations had been voiced, the United States, France and the United Kingdom carried out a series of airstrikes targeting several government facilities in Syria that allegedly stored chemical weapons.