The woman was wandering through the Sunrise Ranch community early Friday morning when she appeared on a homeowner's front porch and rang their doorbell at roughly 3:20 a.m. local time, according to the Montgomery County Sheriff's Office. However, by the time the resident opened the door, the mystery woman was gone.
Confused and wanting to figure out what happened, the homeowner reviewed the home's security system and later shared it with police after seeing the troubling footage. The recording shared by the sheriff's office lasts less than 10 seconds and shows the barefoot woman briefly approaching the home before cutting off.
According to ABC News, several neighbors in the community had their doorbells rung that morning, but failed to come in contact with the woman, as she'd disappeared by the time the door was opened.
"I've got a nine-year-old daughter at home," neighbor Branson Golson told Houston news station KTRK. "It worries me what's going on in the neighborhood."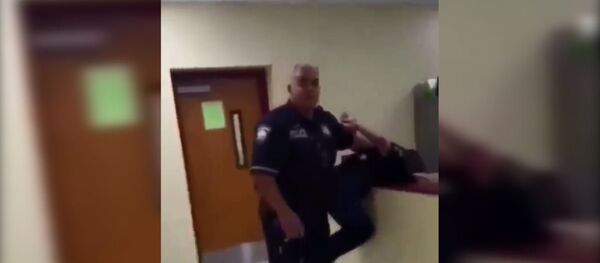 Although the video has been shared multiple times on social media, Lt. Scott Spencer told the Houston Chronicle that the sheriff's office has yet to find any matches in their missing persons database. The officer also indicated that the department had received tips from people suggesting the woman was "a missing person from as far away as Canada."
Spencer did not confirm that the woman was wearing restraints on her wrists, stressing that the investigation is still ongoing. "There's still a lot to be done," he said.
Presently, the sheriff's office is calling on anyone with information to contact them at 936-760-5800 and refer to case number 18A243347, Houston news station KHOU reported.