German Interior Minister Horst Seehofer offered to provide federal assistance to the state of Saxony on Tuesday, as anti-immigrant protests in the city of Chemnitz turned violent, leaving at least 18 people injured.
"The police in Saxony are in a difficult situation," he said, as quoted by AP. "Should it be requested, the federal government will provide police support."
Right-wing activists have called for more people to join the protests that flared up in Chemnitz after a German man was allegedly killed by two immigrants.
Extra law enforcement has been called in to contain the spontaneous protests after local police admitted to being unprepared for their scale.
Hundreds of demonstrators were caught on camera clashing with left-wing activists and police and shouting anti-immigrant slogans such as "Foreigners get out" and "This is our city." Some
of them carried banners that read "stop the refugee flood" and "defend Europe."
German government officials, including Chancellor Angela Merkel, have condemned the street rioters, who she said were "hunting down" foreigners.
However, according to Czech-born Swedish journalist Vavra Suk, it was the German government's fault that led to violent clashes.
"Angela Merkel's government is solely responsible for the violence, by creating a situation where German citizens are not safe in their own country," Vavra Suk told Sputnik. "I recently spoke to Bishop Louka El-Khouri of the administration of Patriarch of Antioch, and to Shejk Ahmad Badreddin Hassoun, the Grand Mufti of Syria, when visiting Damascus. Both warned me of the danger of accepting refugees without any control, since many are wanted for war crimes in their own country. The terrorists are loosing ground in Syria and Iraq, and therefore seek to escape to Europe."
Protesters flooded the streets of Chemnitz after Daniel Hillig, a 35-year-old German, was allegedly stabbed to death by a 23-year-old Syrian and a 22-year-old Iraqi following a verbal dispute at a local festival on August 26. The two suspects were taken into custody, with state prosecutors seeking an arrest warrant.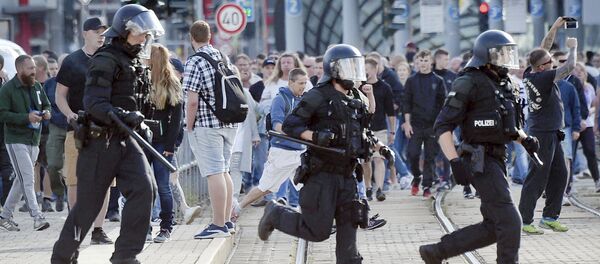 27 August 2018, 14:08 GMT
In 2015, amid the European migration crisis, Germany took in over one million refugees as part of what Chancellor Angela Merkel's called an "open-door policy." Ever since, multiple reports have attributed responsibility for gruesome murders and rape cases to immigrants and asylum-seekers living in Germany, provoking a vigorous public outcry over Merkel's immigration policy and igniting a row that threatened to break up her coalition government.
This year, Berlin has sought to avoid a repeat of the migration crisis. In order to tackle illegal immigration, the German interior ministry established 'transfer centers' and 'Anker centers' to hold and process migrants who had entered the country illegally.