The 23-time Grand Slam champion sparkled on the court on Wednesday in a lavender tutu — a  single-sleeved dress with dozens of airy layers of tulle just over her shorts.
"When I first tried on the dress, I felt very strong and feminine at the same time. It has all the really strong elements, from the leather to that really cool stretchy material," Williams told Vogue, adding the tutu part is "probably my favorite."
She went on to say that the outfit for her US Open match against Carina Witthoeft, created by Virgil Abloh, essentially embodies "what I always say: that you can be strong and beautiful at the same time."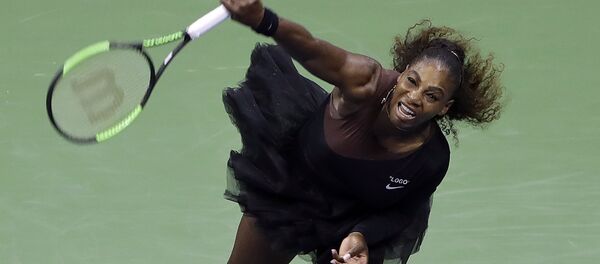 29 August 2018, 10:10 GMT
The exaltation that the audience experienced could be perhaps likened to her fans' storm of reactions as she won a US opening match in a black tutu, thereby doubly pleasing the legion of tennis enthusiasts.
The victory came just days after the French Open officials announced a new set of regulations targeting players' outfits for the next year's tournament edition. "I think that sometimes we've gone too far," said Bernand Giudicelli, the president of the French Tennis Federation, obviously intending it to be a dig at Serena's  dazzling black Nike catsuit, which she had worn in her French Open opening bout.
Serena Williams ranks second in the all-time list of tennis stars, topping the WTA ratings for as many as 319 weeks.