The United Nations called on Russia, Iran and Turkey to not attack Idlib until humanitarian corridors are set up to evacuate civilians. One overlooked possibility, however, is an attack from France, the United Kingdom and the United States.
Former UK Ambassador to Syria Peter Ford published an article on Thursday outlining just how plausible such an attack is.
"It's three major powers about to attack, apparently, a vulnerable Middle East country, and again they're using subterfuge, if the reports coming from Russian sources are correct. And I believe they are-that a fabricated incident involving alleged use of chemical weapons is in the works," Ford told Radio Sputnik's Loud & Clear hosts John Kiriakou and Brian Becker.
"Just so there's no confusion here: if the Syrian regime uses chemical weapons, we will respond very strongly, and they really ought to think about this a long time," US National Security Adviser John Bolton threatened at a news conference in Jerusalem on August 22.
A joint US-UK-France statement from the day prior vowed intervention yet again in Syria if reports emerged of a chemical weapons attack.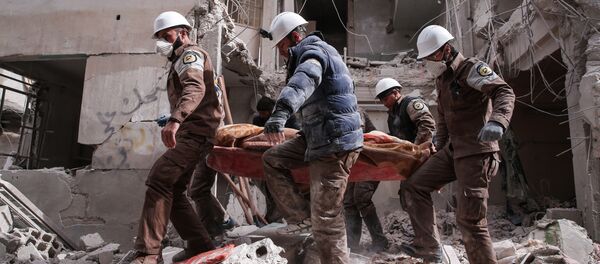 While there exists very little evidence that chemicals were used at all in the most recent incident in Douma in April (locals deny it, and the Organization for the Prohibition of Chemical Weapons has failed to find any conclusive evidence), the US, UK and France jointly bombed Syria over the reports. US Defense Secretary James Mattis justified the attack based on "social media indicators," which he said pointed to the use of chlorine or sarin. It is likely that he was referring to videos published by the White Helmets, an organization funded by a number of Western governments.
Currently, some 10,000 members of al-Qaeda and Jabhat Al Nusra, plus their families, are occupying Idlib, UN Special Envoy for Syria Staffan de Mistura told reporters on Thursday. The main al-Qaeda group in Idlib is Hay'at Tahrir al-Sham.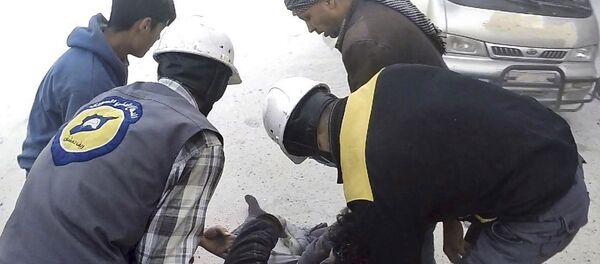 30 August 2018, 13:15 GMT
"The intentions could hardly be made more plain, and almost every day [there is] new evidence," Ford said, citing a CNN Pentagon reporter's article suggesting that Assad's movement of helicopters near Idlib caused concern to the US that the aircraft "could eventually be used to launch another chemical attack using chlorine filled barrel bombs."
"They really are ramping up the conditioning [for an attack on Syria,]" Ford said. He noted that this kind of conditioning was not present when Syria liberated Daraa in early July, when he expected allegations of another chemical attack. "This convinces me that this time it's for real, and we better brace ourselves; we better stand by for a crisis much more serious than the Douma crisis unless we raise our voices loud enough."