With images of Honey, a female bottlenose dolphin, swimming in a tiny pool at the park, and a group of dust-covered penguins huddling near crumbling structures, activists and netizens alike have been calling on the animals to be saved. On social media, netizens are using the recently created #SaveHoney hashtag to draw attention.
The abandoned park was permanently closed at the end of January by its owners, who cited a severe drop in visitors after the March 2011 earthquake/tsunami struck the island nation, according to The Guardian. Since then, employees have stuck around and continued to keep tabs on the marine animals. It's unclear if employees are using their own money to purchase food or if they're taking from supplies that were stored on the grounds.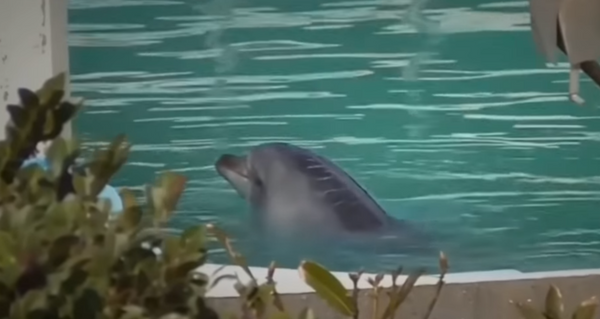 Honey, a female bottlenose dolphin, swims in a tiny pool at Japan's closed Inubosaki Marin Park Aquarium
Although animal activists have been denied entry to the park, they have been able to get a general sense of the animals' well-being via long-range cameras. The situation is not looking the great, according to Akiko Mitsunobu, head of the aquarium issues at the Animal Rights Center Japan.
"I am worried that Honey will die if this situation continues," Akiko told The Guardian. "Lately she has just been repeating the same movements — dipping her head in and out of the water — and is showing definite signs of stress."
Repeated calls by activists to the park and its parent company have gone unanswered, Japan Times reported, also noting that officials from the city of Choshi have been unsuccessful in making contact with park representatives.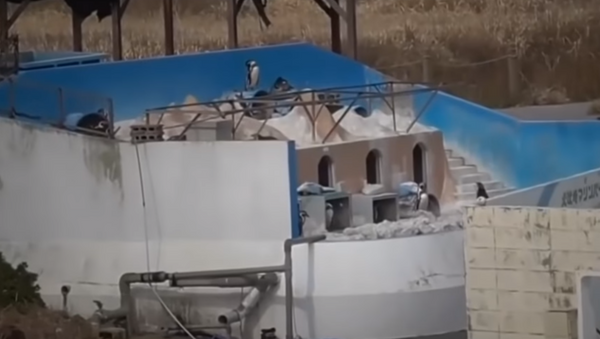 Dust-covered penguins huddle near crumbling structures at Japan's shuttered Inubosaki Marine Park Aquarium
"I get feelings of danger and doubt from the fact that they are so silent about this," Sachiko Azuma, a representative of local activist group PEACE (Put an End to Animal Cruelty and Exploitation), told the Independent. "As a group that handles animals, they have a responsibility to explain what they intend to do with Honey and the other animals."
PEACE's recent postcard campaign has led to more than 800 emails and letters being addressed to the shuttered park, demanding that the animals be transferred to a new home. Activists are calling for the animals, especially Honey, to be moved to a sanctuary instead of her being released back to her home in Taiji.
Honey was placed at the marine park in 2005 after she was captured by fishermen in Taiji, a coastal town in Japan that was highlighted in the 2009 Oscar-winning film "The Cove" for its dolphin slaughter. The film shows fishermen hunting down dozens of dolphins, driving them into coves, where some are killed for meat and others taken alive in order to be sold to aquariums. The film ultimately led the Japan Association of Zoos and Aquariums to announce that it would no longer purchase dolphins from Taiji, Reuters reported.