Zakharchenko was born on June 26, 1976, in the city of Donetsk. He graduated from a technical college and also studied at the Interior Ministry's law institute. He began his career as a mine electrician and later opened his business related to the mining industry.
In 2010, Zakharchenko became the head of the Donetsk department of the Oplot non-government organization established in the city of Kharkiv.
On April 16, 2014, Zakharchenko took part in the takeover of the Donetsk Region Administration, which followed protests in the eastern Ukrainian region of Donbas against violence in Kiev that resulted in the overthrow of former Ukrainian President Viktor Yanukovych.
READ MORE: Ukraine's Right Sector Wants to Kill 50 Russian Officials — Investigators
In May 2014, he was appointed commandant of Donetsk and later as the DPR interior minister. On August 8, 2014, the DPR Council of Ministers appointed Zakharchenko as the republic's prime minister.
Three months later he was elected as the DPR leader having gained 75.5 percent of votes.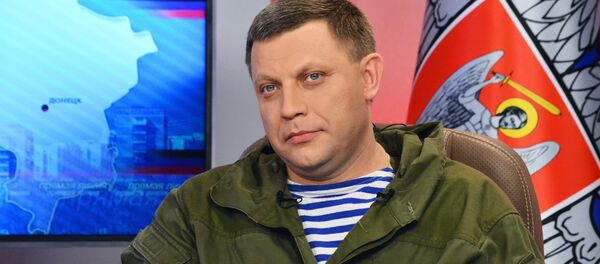 31 August 2018, 15:16 GMT
During the military operation in Donbas, Zakharchenko sustained two injuries: one in the arm near the settlement of Kozhevnia on July 22, 2014, and another one in the leg near the city of Debaltseve on February 17, 2015.
He was major general of the DPR army, had a title "Hero of DPR" and several orders of the self-proclaimed republic. Zakharchenko also received an Order of Friendship of South Ossetia in 2015.
The murdered DPR leader had a wife and four sons.