Trump has repeatedly criticized US Attorney General Jeff Sessions for recusing himself from the investigation into alleged Russian imeddling in the 2016 US presidential election. After the recusal, Deputy Attorney General Rod Rosenstein appointed Special Counsel Robert Mueller to lead the probe, which Trump has slammed as "witch hunt."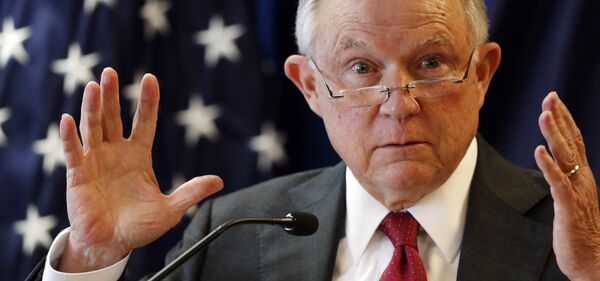 31 August 2018, 00:26 GMT
On Thursday Trump threatened to "get involved" if the FBI and US Justice Department don't "start doing their job,"  the US president said at a rally in Indiana.
"Our Justice Department and our FBI — at the top of each, because inside they have incredible people — but our Justice Department and our FBI have to start doing their job and doing it right and doing it now… I wanted to stay out, but at some point if it doesn't straighten out properly… I will get involved and I'll get in there if I have to," Donald Trump was quoted as saying by Reuters.
Trump has on numerous occasions rebuked the DoJ over its handling of Russiagate and suggested its leadership was biased against the GOP, saying that "people are angry."
Pres Trump at Indiana rally: Our Justice Dept and FBI have to start doing their job and doing it right and doing it now. Because people are angry, people are angry. What's happening is a disgrace and at some point I wanted to stay out… I will get involved and I will get in there pic.twitter.com/zS07kfymyC

— NBC News (@NBCNews) 31 августа 2018 г.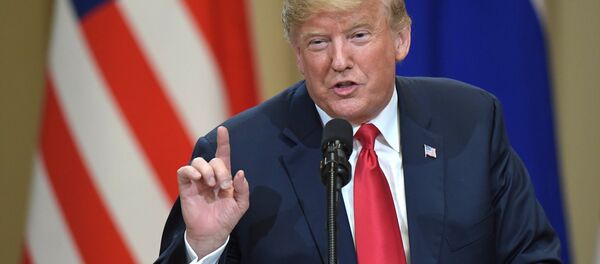 18 August 2018, 22:11 GMT
US authorities have been probing the alleged collusion between the Trump campaign and Russia as well as Moscow's alleged meddling in the US 2016 presidential election, won by Trump, for months.
Both Russia and Trump have repeatedly denied the allegations of collusion. Trump has said the special counsel's investigation had not produced any evidence of collusion in more than a year of the ongoing probe. Russian officials have also denied interfering in the US election, saying the allegations of meddling had been made up to deflect public attention from actual instances of election fraud, corruption and other pressing issues in the United States.
The first victim of Special Counsel Robert Mueller's "witch hunt" is Trump's former campaign chairman Paul Manafort. Manafort was charged last week with eight counts of bank fraud and tax evasion. However, no evidence of the alleged collusion between Trump and Moscow has been found so far.
READ MORE: Trump's Aides Fear President to Pardon Ex-Campaign Chief Manafort