Sputnik: What's your take on the statement made by the French president about a joint security infrastructure with Russia? What exactly do you think he envisioned? 
Dr. Pierre-Emmanuel Thomann: I think this new proposal from the French president is a good opportunity to start a dialogue between European nations and Russia, because the French president realized that the sanctions policy of the past and the geopolitical context at a global level offers an opportunity for France to enter a new dialogue for a better geopolitical balance of power in Europe.

31 August 2018, 08:00 GMT
However, I think the idea is good, but the problem will be with the implementation, because President Macron still thinks the unity of the European Union and also a Franco-German entente is a priority. But he will not start a dialogue with Russia at a bilateral level between France and Russia against the will of his more reluctant partners.
The problem could be that some countries in the EU like Poland and the Baltic countries are reluctant to enter such a dialogue. And also, France and Germany don't have the same priorities in Europe. France would like to intervene in Africa and the Mediterranean area to protect its security interests, whereas Germany has more emphasis on Eastern Europe and the Balkans.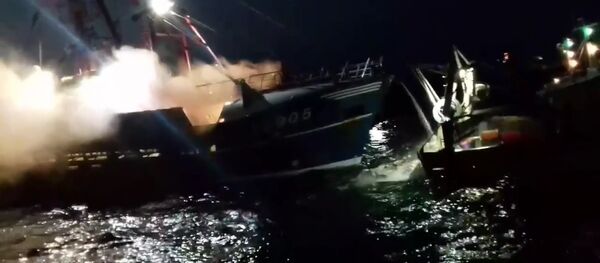 30 August 2018, 06:00 GMT
It will be difficult to negotiate between Europeans to implement such a new geopolitical vision and this is why: if France privileges bilateral relations and acts boldly for example to get rid of the sanctions and to push some of its partners to a new security architecture, to new ideas, they should do it first at a bilateral level, and not make the EU unity on the Franco-German axis a priority, because it will be difficult to implement this new geopolitical vision.
Traditionally, France has always had a legacy of a Gaullist approach, and in the Gaullist approach, Russia is a very important partner to balance relations with Germany and the United States.
Sputnik: Do you think it's the US, which Macron has said is actually cannot be relied upon for the EU security, that's pushing France toward looking at Russia, or is it something else?  Can you also comment on how much of a vacuum has the US under the Trump administration left for other partners, for Europe? 
Dr. Pierre-Emmanuel Thomann:  We don't know yet what is a priority of the US because of the constant struggle between Trump and his own administration.
It looks like Trump would like better relations with Russia but is pushed by his own administration to make things worse and to still make Russia an adversary. The European partners, they could try to, in that case, to have better relations with Trump, to push his administration to accept multi-polarity and better relations with Russia.
READ MORE: 'France Trying to Regain Initiative On European Level' — Strategic Researcher
The problem is that at the European Union level, member-states still disagree on their priorities. As I said, there are some countries like Poland, and some Eastern European countries, especially the Baltic countries – they are reluctant to have good relations with Russia. France and Germany have different priorities. France would like Russia to play a balancing role and also protect its interests in the Mediterranean area and Africa.
Between Germany and Russia there is a new geopolitical rivalry for the control of Eastern Europe, and this is why I said that it is so difficult at the EU level to implement a bold geopolitical strategy. It should be done, I think, at a bilateral level first to push reluctant partners to be more willing to engage in a new era.
Views and opinions expressed in this article are those of Dr. Pierre-Emmanuel Thomann and do not necessarily reflect those of Sputnik.