"The Secretary-General calls on other countries to help fill the remaining financial gap, so that UNRWA can continue to provide this vital assistance, as well as a sense of hope this vulnerable population," his spokesman said in a statement on Friday.
US State Department spokeswoman Healther Nauert said Friday the US administration had stopped all funding for the UN Relief and Works Agency (UNRWA) after a careful review found it to be unsustainable. The UNRWA denied this and promised to look for new donors.
READ MORE: Over 100 US Congressmen Urge Trump to Resume Contributions to UNRWA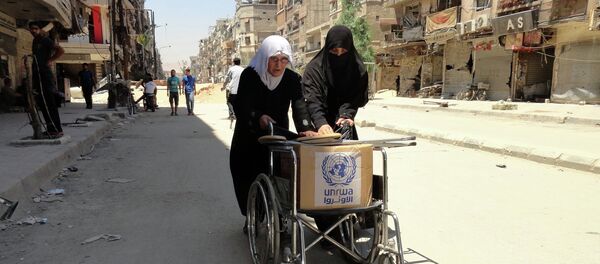 1 September 2018, 00:28 GMT
Stephane Dujarric, a spokesman for the UN boss, said the organization regretted the move by the United States, which had traditionally been the agency's largest single contributor. "We appreciate its support over the years," he added.
The agency faced an unexpected financial crisis in January when the United States froze a half of its funding for Palestinian programs. Dujarric said the UNRWA responded by expanding its donor base, exploring "new avenues of support," and cutting costs.