The US Navy's Los Angeles-class submarine USS Newport News armed with Tomahawk cruise missiles has entered the port of Gibraltar at the entrance to the Mediterranean Sea, Gibraltar Chronicle reported.
READ MORE: Russian MoD: White Helmets Preparing to Stage Chemical Attack in Idlib
According to the media outlet, the nuclear-powered fast attack submarine was spotted near the port on Thursday, with a Spanish customs boat being intercepted by a Gibraltar Defense Police vessel once it approached the US vessel.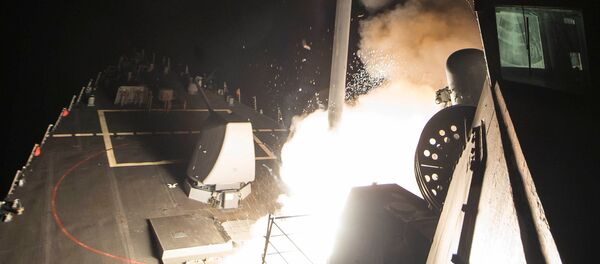 27 August 2018, 12:03 GMT
The Gibraltar Chronicle cited the US Department of Defense as saying that the submarine's arrival was a "scheduled logistical visit."
Over the past two weeks, there has been a great deal of speculation about the possibility of a chemical weapons attack in Syria, with Russian military officials warning of an upcoming provocation that would trigger a new round of Western strikes against Bashar Assad's government.
On Friday, CNN reported that facilities allegedly connected with the production of chemical weapons may be among the principal targets that would be hit if the US administration deemed Damascus had indeed used chemical agents against civilians.
To that end, the destroyer USS The Sullivans armed with 56 cruise missiles arrived in the Persian Gulf a couple of days ago, while a US В-1В bomber carrying 24 air-to-surface AGM-158 JASSM cruise missiles had been deployed to Al Udeid air base in Qatar, Russian Defense Ministry spokesman Maj. Gen. Igor Konashenkov said.
Last Sunday, Konashenkov warned that militants from the Tahrir al-Sham group were preparing to stage a provocation in Idlib province in order to accuse Syrian government forces of using chemical weapons against civilians.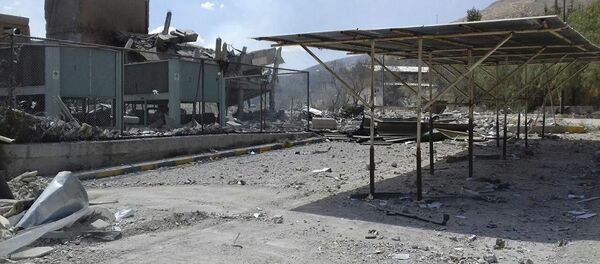 26 August 2018, 09:26 GMT
On Tuesday, the Russian Center for Syrian Reconciliation stated that the so-called White Helmets had delivered a large shipment of toxic substances to a warehouse used by Ahrar al-Sham militants in Idlib in order to stage a false-flag attack and blame it on the government's troops.
During a joint presser with his Russian counterpart earlier this week, Syrian Foreign Minister Walid Muallem said that the White Helmets group had kidnapped 44 children to stage the false-flag attack.
In April 2018, a vast number of Western media outlets and the While Helmets reported that Syrian government forces had used chemical weapons against civilians in the city of Douma.
READ MORE: Syrian FM: White Helmets Kidnapped 44 Children to Stage Chemical Attack in Idlib
Irrespective of the lack of evidence, the US, France and the UK carried out a series of coordinated airstrikes against several targets in Syria that allegedly stored chemical weapons.
The Syrian government has strongly denied the accusations, saying that the Jaish al-Islam terror group had staged the attack to encourage foreign airstrikes against Syria.