The head of the MI5, Andrew Parker, has reportedly invited Corbyn to a "facts of life" briefing on the real terrorist threats facing the country.
But Corbyn has postponed the meeting, which was scheduled for Tuesday, as he is expected to spend all day attending a meeting of Labour's National Executive Committee as he battles to quell a storm over anti-Semitism that has engulfed his leadership.
"The subjects of the briefing would have included issues relating to the domestic security threat, counterterrorism, counter-espionage, Russia and returning foreign fighters," The Sunday Times wrote, quoting intelligence sources.
This would have been the first time the Labour leader would have been briefed by the head of Britain's domestic intelligence service, the newspaper wrote.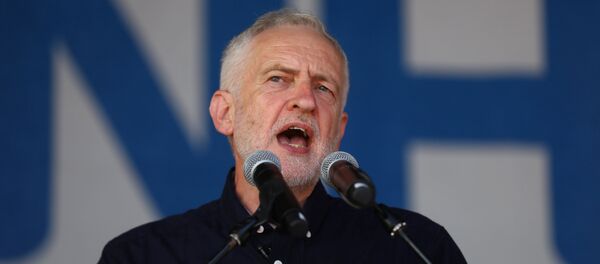 16 August 2018, 18:47 GMT
Jeremy Corbyn had been told he could bring along his chief advisor Seumas Milne and Labour's shadow Home Secretary Diane Abbott to the briefing.
Another source told the newspaper that Britain's security services have been "troubled" by some of Jeremy Corbyn's statements on terrorism.
When speaking after last year's bombing in Manchester, Corbyn suggested that it was London's foreign policy, rather than jihadist ideology, that bears the blame for terrorist atrocities.
Corbyn and Milne have also questioned the veracity of the security services' conclusion about Russia's alleged involvement in the Skripals' poisoning in March, with Milne saying that she found it "problematic" to trust the security services after the Blair government lied about the strength of the intelligence about alleged Iraqi weapons of mass destruction in the run-up to the US-led invasion of the Arab country in 2003.
READ MORE: Anti-Semitism Accusations Against Corbyn Seek to Harm Palestinians — JVL