During his four-day official visit to Israel starting on September 2, the first by a Philippine president since the two countries established diplomatic relations in 1957, Rodrigo Duterte will meet with Prime Minister Benjamin Netanyahu and President Reuven Rivlin, the newspaper Haaretz reported.
His itinerary also includes, among other things, a tour of the Yad Vashem Holocaust memorial and museum, and a visit to a monument commemorating the rescue of Jews by Filipinos during the Holocaust.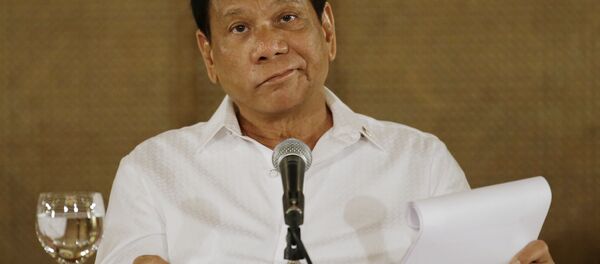 Duterte and Netanyahu are expected to discuss common concerns and ways of expanding cooperation in the areas of labor, tourism, trade, agriculture, counterterrorism, and security and law enforcement.
During his meeting with President Rivlin, Duterte will discuss cooperation and the close historical and people-to-people ties between the two countries.
Other, less public aspects on Duterte's schedule include a visit to a display of advanced weapons and equipment organized by the Israeli Defense Ministry, and the signing of an offshore oil exploration license being granted to the Israeli-owned company Ratio Petroleum.
Even though Tel Aviv has been tight-lipped about the nature and scope of its arms exports to a number of countries, websites and official Facebook pages from the Philippines point to a large number of arms purchases made in the past.
Rodrigo Duterte is bringing along a high-powered delegation of about 400 people, including the defense minister and seven other cabinet ministers and more than 150 business people.
Israel sees the four-day visit by the Philippine president and his top ministers as a chance to thank Manila for taking in Jews during the Holocaust and backing the Israeli independence campaign that followed.
Plans for Duterte's visit to Israel began to take shape about a year ago when the Philippines considered moving its embassy to Jerusalem.
The transfer never came though, with the Philippines' undersecretary of foreign affairs, Ernesto Abella, saying last week that the country has other partners in the region and the issue is therefore sensitive.
READ MORE: New Partners: Key Takeaways of Duterte's Brief Visit to Russia
Relations between Israel and the Philippines have become much closer since Rodrigo Duterte was elected president in 2016.
On several occasions, Manila has voiced support for Tel Aviv's policies on various issues and has abstained on several anti-Israeli votes in the United Nations, including a 2017 UNESCO resolution denying Israeli claims to Jerusalem.
Israel has also sold a substantial amount of arms to the Southeast Asian Republic, and the two maintain strong security relations as well, the newspaper wrote.