"We are currently looking at several projects. Our commitment is good for the German and the Qatari economies," Qatari Finance Minister Ali Sharif Emadi told the publication.
Qatar already owns stakes in German companies Volkswagen, Deutsche Bank, Siemens, Hochtief and Solarworld.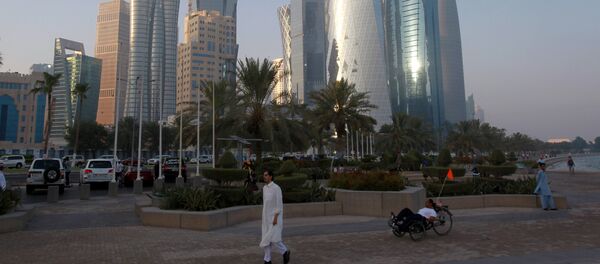 31 August 2018, 19:28 GMT
Last year, Saudi Arabia, Egypt, Bahrain and the United Arab Emirates broke off diplomatic relations with Qatar, accusing it of supporting terrorism and interfering in their internal affairs. Through Kuwait, which is acting as a mediator in the crisis, the four Arab states handed over an ultimatum containing 13 demands to Doha, but the country has refused to comply with them.
German Chancellor Merkel has stated that Germany will not act as a mediator in the Qatar crisis and called on the members of the Cooperation Council for the Arab States of the Gulf to work together in order to find a solution to the crisis.
READ MORE: Qatar Spent Millions in 2017 to Influence Trump Foreign Policy
According to German media, Berlin has been exporting tanks to Qatar, which is backing the government in Yemen's civil war between rebels and troops loyal to President Abd Rabbuh Mansur Hadi.