"Farmers will tell you that they would always prefer to sell a good crop at a fair price, rather than receive government aid, and that's what long-term trade deals will accomplish. But in the meantime, President [Donald] Trump has promised that he will not allow American agriculture to bear the brunt of the unjustified retaliation from foreign nations. Today we are putting the President's promise into action," Perdue said.
In total, the United States Department of Agriculture (USDA) will authorize up to $12 billion in programs, consistent with World Trade Organization obligations, the release said.
READ MORE: Farm Workers' Union Sues US Labor Dept Over Poor Conditions for Foreign Workers
The statement listed a total of nearly $4.7 billion in initial payments that will be disbursed under the first phase of the program, including $3.6 billion for soybean farmers, $290 million for pork producers and $277 million for cotton farmers.
The USDA has also started a program to begin buying an initial $1.2 billion in commodities that have been targeted by tariffs, the release said.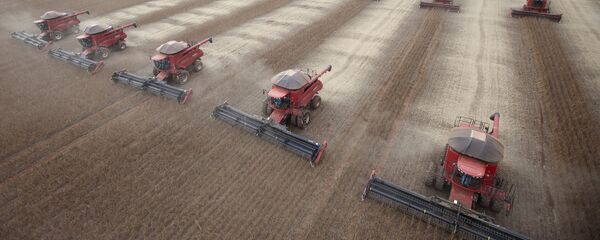 The publication also stated that another $200 million will be allocated for a program aimed at helping US farmers identify and access new foreign markets.
In addition, USDA said it would begin to purchase commodities targeted with tariffs under a food purchase and distribution program. The department has also started accepting the proposal for the Agricultural Trade Promotion Program.
Trump's trade policies have prompted China, Canada, Mexico, the European Union and others to impose retaliatory tariffs on US goods, particularly agriculture exports.