"The cosmonauts have been asked to bring back to Earth all possible proof that could help determine why the hole appeared. While photo and video, as well as measurements made on the day of the hole's discovery have already been sent to Earth, now they [the cosmonauts] have been asked to take samples of the glue that held together the material covering the drilled aluminum skin of the ship, find other traces, up to any shavings left after the drilling," the source said.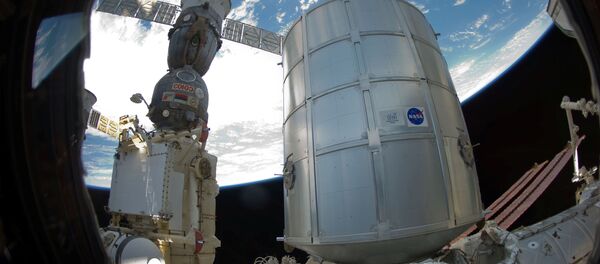 6 September 2018, 06:50 GMT
The evidence will be delivered to Earth in early October, when the first ship returns from the ISS.
Soyuz MS-09 will remain docked to the ISS until December. The living quarters where the small hole was found will disengage and burn down upon atmospheric entry, while the cosmonauts will land in a capsule.
A special commission from Russia's Energia Rocket and Space Corporation is looking into the files on all people who could have had access to the ship during the post-production stage before it was sent to the launch site, and then left the company afterward.
"One of the versions under consideration is that one of the employees decided to take revenge on the company in this way before resigning," a source said.
READ MORE: Air Leak Hole in Soyuz Spacecraft Likely Made During Construction — Sources
The commission initially found a suspect, but later cleared the person, as the former employee never worked with the ship in question.
The hole, detected last week, caused a small loss of pressure, but the cosmonauts were able to fix the air leak.