US First Lady Melania Trump reportedly declined an invitation to appear in front of the camera alongside her husband, then-presidential candidate, in wake of the release of the contentious "Access Hollywood" tape.
"'Not doing that,' Melania said in her Slovenian accent, dismissively waving her hand," according to an excerpt from a new tell-all by well-known Watergate journalist and 1973 Pulitzer Prize winner Bob Woodward, published by the Guardian. "No way. No, no, no." 
The infamous tape, leaked just weeks ahead of the elections, in October 2016, reveals Trump bragging about approaching and groping women without their approval, with the president noting in 2005  that he "would grab them by the p***y." He subsequently apologized for what he called "locker room talk" and has even questioned the authenticity of the recording.
Following the much debated release, Melania issued an official statement saying that although the choice of words was "unacceptable" and "offensive," it "did not represent the man I know."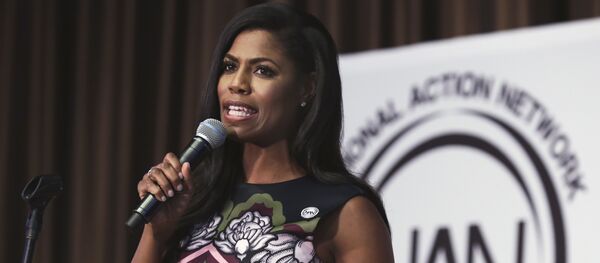 24 August 2018, 14:05 GMT
"He has the heart and mind of a leader. I hope people will accept his apology, as I have, and focus on the important issues facing our nation and the world," she stated at the time.
The account in Woodward's book pointing to an allegedly tense relationship between the first couple comes a short while after former White House aide Omarosa Newman's explosive new book, in which she stated that the first lady "can't wait to divorce" the president and uses her fashion choices, namely, outfits, to this end, to "punish" Trump.
READ MORE: 'N-Word' Tapes: Omarosa Says Trump Caught on Recording Using Racial Slurs
Woodward's freshly released book, titled "Fear: Trump in the White House," outlines the author's chaotic vision of daily life in the White House, including personal skepticism and even insults, which prompted Trump to further lash out at it, billing Woodward's brainchild "fiction," which relied upon "phony sources," and "a scam." 
The Woodward book is a scam. I don't talk the way I am quoted. If I did I would not have been elected President. These quotes were made up. The author uses every trick in the book to demean and belittle. I wish the people could see the real facts — and our country is doing GREAT!

— Donald J. Trump (@realDonaldTrump) 7 сентября 2018 г.
"The Woodward book has already been refuted and discredited by General [Secretary of Defense] James Mattis and General [chief of staff] John Kelly," he tweeted Tuesday.
"Their quotes were made up frauds, a con on the public. Likewise other stories and quotes. Woodward is a Dem operative? Notice timing?"