It looks like this centuries-old mystery has finally been solved by Boston-based physician Mandeep Mehra, who blames an under-active thyroid gland condition for the enigmatic facial expression of Leonardo' famous model, according to a study published in the journal Mayo Clinic Proceedings.
Known as hypothyroidism, it can cause swollen hands, thinning hair and a visible lump in the neck – all caused by a lack of iodine found in dairy products, seafood, meat, bread and eggs.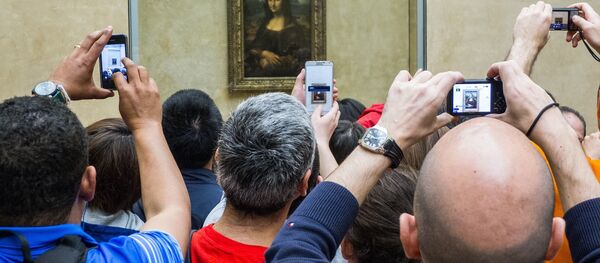 Back in the 16th century, Southern Europeans' eating habits were primarily vegetarian, based on cereals, root vegetables and legumes with little meat, as opposed to dietary patterns in Northern Europe where livestock farming was more developed.
Seafood was uncommon inland and famine was common.
As to the smile, Dr. Mehra believes it may be due to a disability caused by muscle weakness that noblewoman Lisa Gherardini — widely believed to be the subject of Leonardo's timeless masterpiece – apparently suffered from.
Mehra, who is medical director of the Heart and Vascular Center at Brigham and Women's Hospital in Boston, said that after standing "for an hour and a half staring at La Gioconda at the Louvre Museum in Paris, you start to notice a lot of strange details."
"Take, for example, the inner corner of her left eye: There's a small, fleshy bump there, just between her tear duct and the bridge of her nose. Her hair is oddly thin and lank, and her hairline is receding behind her veil. She has no eyebrows, whatsoever. She also has yellowed skin and what seems to be a goiter," Dr. Mehra said.
He added that the enigma of the Mona Lisa can be resolved by a simple medical diagnosis of a hypothyroidism-related illness.
"However, the limited treatments available at the time would have meant she would have died much younger," he added.
READ MORE: Take That, Art Majors! Neuroscientists Say Yes, Mona Lisa's Smile is Happy
Born in Florence in 1479, Lisa Gherardini is thought to have posed for the painting between 1503 and 1506.
Lisa Gherardini was about 24 when Leonardo completed the portrait, believed to have been commissioned by her husband, Francesco Del Giocondo, to celebrate the birth of their son in 1502.