With the first deep water pipes for the Nord Stream 2 project already being laid, this is a clear signal that the new natural gas pipeline from Russia to Germany is now unstoppable," Forbes reported.
A ship called Solitaire in the Gulf of Finland will be working round-the-clock putting in about three kilometers (1.8 miles) of pipes a day to finish the job before the end of next year.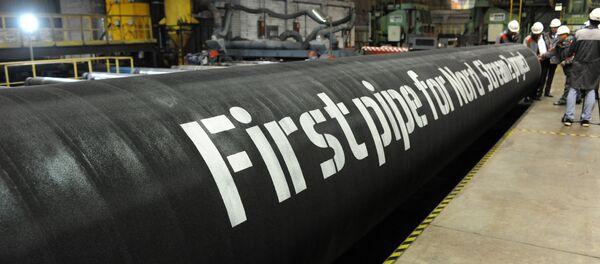 4 September 2018, 10:38 GMT
The rapid pace of construction means that the organizers are almost completely confident in the implementation of the project.
A likely reason for the cancellation of Nord Stream 2 could be Denmark's ban on construction in its waters, but this issue is easily resolved by changing the pipeline's route of and moving it to the Danish exclusive economic zone in international waters.
An official application to this effect has already been filed, and there are simply no grounds for rejecting it, Forbes added.
If construction in the exclusive economic zone were banned by Denmark, this would be fraught with serious reputational losses for the country. And all other countries, through whose waters the gas pipeline will pass, in particular, Finland, Sweden and Germany have already approved construction.
With all these factors being taken into consideration, Russia sees little standing in the way of the new pipeline. All of this could change, however, if
Angela Merkel changes her mind. This seems unlikely though because during her recent meeting with President Vladimir Putin, she gave little indication that she is prepared to do so.
At this point, opposing the pipeline could look like she is giving in to pressure from Trump — which would also be politically unpopular.
Therefore, very few legal reasons remain that could stop the construction of the Nord Stream 2 pipeline, Forbes concluded.
Some countries that are afraid of losing revenues from Russian gas transit, above all Ukraine, are opposed to Nord Stream 2.
The project is also facing opposition from the United States, which wants European countries to start importing American liquefied natural gas and has threatened to sanction European companies who invest in the pipeline.

Profitable to All
Russia has repeatedly urged its European partners not to perceive the Nord Stream pipeline as an instrument of influence, insisting that the project is an entirely economic one.
During their recent meeting, Russian President Vladimir Putin and German Chancellor Angela Merkel agreed that the Nord Stream 2 gas pipeline project was profitable and competitive and expressed their intention to complete it.
READ MORE: Nord Stream 2 Construction Kicks Off in German Waters Despite Sanctions Threat
"[The parties] discussed big projects including Nord Stream 2. [Putin and Merkel] pointed out the commercial nature and competitive advantage of this project. Both Putin and Merkel agreed that it was not right to somehow politicize this project," Kremlin spokesman Dmitry Peskov told reporters.
Nord Stream 2, which is a joint venture of Russia's Gazprom with France's Engie, Austria's OMV AG, UK-Dutch Royal Dutch Shell, and Germany's Uniper and Wintershall, aims to deliver 55 billion cubic meters of Russian natural gas a year to the European Union across the Baltic Sea to Germany.
An extension of the existing Nord Stream pipeline, Nord Stream 2 will run across the territories of Russia, Finland, Sweden, Denmark and Germany.
It is scheduled to become operational at the end of 2019.