Johnson took angry flak from fellow Tories on Sunday after he compared Theresa May to a suicide bomber for her handling of Brexit, which many have seen as an attempt by the ex-foreign secretary to divert public attention away from claims that he cheated on his wife.
Boris Johnson's suggestion that the PM had "wrapped a suicide vest around the British constitution" and "handed the detonator" to Brussels came just days after it emerged that he was divorcing his wife of 25 years, Marina Wheeler, and had had flings with three women.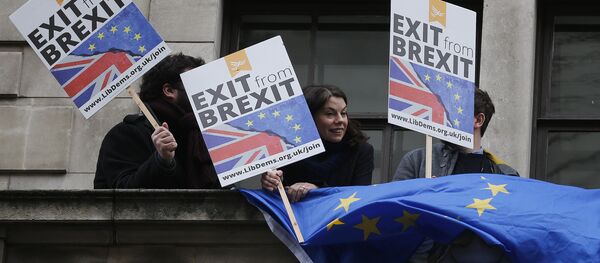 27 August 2018, 12:01 GMT
It has also emerged the PM's aides drew up a dossier on his sex life during the 2016 ¬leadership contest. It claimed that two of the women, had worked for Theresa May. The third worked for David Cameron, her predecessor at No. 10.
Johnson's "suicide bomber" comments sparked a backlash and deepened the party's row over its leadership and Boris Johnson is expected to kick off his campaign to take over the Conservative Party leadership when he addresses a 1,000-strong rally of fellow Eurosceptics on the sidelines of the Tory conference in Birmingham slated for later this month.
One Tory MP told the Mirror the developments could wreck Johnson's leadership chances. "If he challenges Theresa May now, it could finish him," he said.
Others believe, however, that Boris Johnson is engaged in a "damage limitation exercise" and wants to "clear the decks" so that his affairs cannot be used against him in any future bid for party leadership.
In an article carried by the Mail On Sunday, Boris Johnson described Theresa May's Brexit roadmap as "feeble" and "pathetic."
Foreign Secretary Jeremy Hunt responded by urging Conservatives to rally behind the prime minister and her Chequers plan that he said aimed at achieving the best Brexit deal for the United Kingdom.
But Steve Baker, who quit as Brexit minister in July over his opposition to the plan, warned about a "catastrophic split" in the party.
READ MORE: Johnson's Ex-Mistress Claims Boris Thinks 'Men Shouldn't Be Confined to 1 Woman'
He added that he hopes that the party's upcoming conference in Birmingham will overwhelmingly endorse a Free Trade Agreement solution to Britain's relations with the European Union.
According to the so-called Chequers plan, adopted by the British government in July, the UK would retain close links with, and access to, the EU single market for goods by following a common rulebook with the EU.
Brussels, however, rejected the proposal.
The negotiations between the UK and the EU have an informal October deadline, but the EU's Brexit negotiator Michel Barnier said this could be extended to mid-November.