The 11th-century castle has been recognized by the UN Educational, Scientific and Cultural Organization (UNESCO) as a World Heritage Site.
"We are trying to keep all in a pristine state. The militants' shells crashed through [the castle's] roof, which let water in and put at risk the monument. We have reconstructed the roof by ourselves," Khanaf said.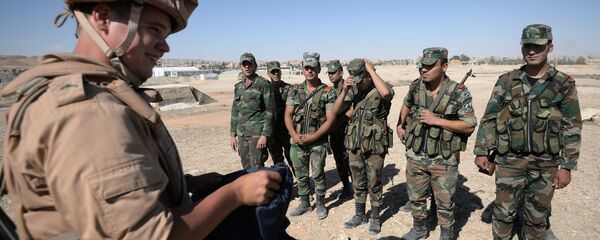 26 August 2018, 14:31 GMT
According to Khanaf, restorers have much work to be done, in particular, they will have to restore the castle's old frescoes.
READ MORE: Extremists Attempting to Break Through in Syria's Homs — Russian MoD
The Syrian authorities are currently reconstructing a number of historical monuments across the country, destroyed by the members of illegal armed groups. The Western countries and UNESCO have pledged their assistance to Syria in this regard on numerous occasions, however, they have not joined the works carried out by the Syrian and Russian specialists so far.