The Guardian has cited Boris Johnson's close allies as saying that the former UK Foreign Secretary does not plan a leadership bid in the run-up to the forthcoming Tory conference but that he will continue to lash out at Prime Minister Theresa May over her so-called Chequers plan on Brexit.
"Is he going to lead the ERG [Eurosceptic European Research Group] and depose her [May] now? The answer is no. His plan is still to show what he believes are the failings of Chequers and get her to change her mind and revert to Lancaster House," one of Johnson's allies said.
READ MORE: 'I'm in This for Long Term': May Hints She Would Fight Johnson's Alleged PM Bid
The ally noted that Johnson is interested in replacing the UK government's policy rather than the Prime Minister, adding that "everyone knows he eventually wants to try to become leader; but not now."
Another ally underscored on Monday that Johnson "will continue to throw rocks at Chequers because he thinks she [May] should be changing direction."
"He's not chucking them at the PM. Like all the anti-Chequers voices, he thinks she should go back to the original version of Lancaster House, which was supported by a broader section of the Conservative party," the ally pointed out.
READ MORE: 'UK Lying Flat on Canvas': Johnson Launches Crusade Against May's Chequers Plan
Both Tories also denied allegations that Johnson wants to "clear the desks" by announcing his divorce ahead of a possible leadership bid, saying that "for Marina [Wheeler] the timing is not a priority, it's entirely understandable that she just wants to get on with it."
Also on Monday, EU chief Brexit negotiator Michel Barnier had noted that Brussels and London could reach a deal on the UK's withdrawal from the bloc in six or eight weeks.
"We are on the way to find this deal […] We have to solve this issue of Ireland and some others (within) the next six or eight weeks […] I am working today to prepare this declaration the same delay, the same agenda in October, [or] the beginning of November," Barnier told the Bled Strategic Forum on Monday.
READ MORE: Johnson Has 'Personal Charisma' But Still Cannot Challenge May — Scholar
The statement was made amid fears of a "no-deal scenario" and opposition by some politicians, including Barnier, to the Chequers plan, adopted by the UK cabinet in July. At the moment, the parties are still at odds over the major withdrawal issue of post-Brexit customs arrangements.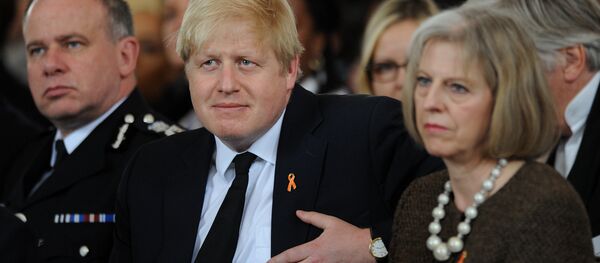 2 September 2018, 14:38 GMT
The Chequers plan specifically stipulates that the sides could create a free trade area for goods and maintain a "common rulebook" for all items, a proposal which has already been rejected by Brussels.
With the UK government currently facing calls to extend  negotiations with the EU if an agreement is not clinched to avert a no-deal Brexit, senior cabinet ministers insist that Britain will leave the bloc in March even if a deal is not secured.