The Vostok-2018 drills, which will be held at five military training grounds and in the waters of the Sea of Japan, will involve more than 300,000 troops, 36,000 tanks, 1,000 aircraft and 80 warships and support vessels. Roughly 3,200 members of China's People's Liberation Army (PLA) will join in on the drills, according to Al Jazeera.
The start of the drills also coincided with the beginning of a three-day economic meeting in Vladivostok, at which Chinese President Xi Jinping and Russian President Vladimir Putin were spotted in a pancake-cooking showdown. The meeting also comes amid escalating tensions on the trade war front between the US and China and US-led sanctions against Russia.
​Sleboda told Radio Sputnik's Loud & Clear on Tuesday the military drills are the largest ever carried out by the Soviet Union or Russia and highlight a growing partnership between China and Russia.
"This is about the military, the political, the economic and even the cultural relationship, and this isn't just the biggest military exercise since the fall out the Soviet Union, actually," he told hosts Brian Becker and John Kiriakou. "This is the largest military drill either Russia or the Soviet Union has ever had, and it is a domestic military drill."
"It's showing again that this military, political, economic strategic partnership… is becoming an alliance," he stressed, before adding that the budding union is all thanks to the US' behavior toward both countries.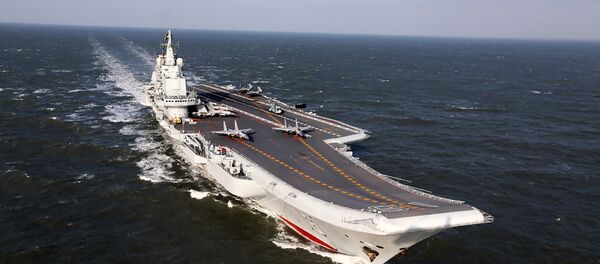 "The US has economically, militarily and politically pushed and pushed and pushed China in the South China Sea, a trade war, tariffs, sanctions and the same things with Russia," he told Becker. "They keep pushing and pushing and pushing, and they are doing everything possible to make the worst geopolitical nightmare."
For Sleboda, the Trump administration's policies are creating a "whole new ball game, geopolitically." And he's not alone in this opinion.
Fyodor Lukyanov, the editor of Russia in Global Affairs, told Al Jazeera for an article published Monday that China and Russia getting closer is a direct response to the US.
"Clearly we can see a growing rapprochement between Russia and China because of the very assertive line against both countries by the United States. And in this regard we can say that [US President] Donald Trump is the major patron of the Russian-Chinese closer relationship," he said.
Following talks with Xi, Putin told reporters that Russia and China will continue to advocate the use of national currencies in bilateral transactions, noting that such a move would help to "increase the stability of banking services for export-import amid continuing risks in the global markets."
Military drills will take place until September 17 and will coincide with NATO's Rapid Trident 2018 drills in Ukraine, which are expected to end on September 15, Sputnik reported.