"We warn the US and its allies against new dangerous steps," said Russian Foreign Ministry spokeswoman Maria Zakharova when asked about the development of the situation surrounding the Syrian "chemical dossier."
The Russian Foreign Ministry spokesperson recalled that the UN Security Council had on September 6 convened an open meeting on the Syrian chemical dossier at the initiative of the United States.
"Despite the fact that the OPCW has repeatedly confirmed the complete destruction of Syria's military chemical potential under international control, a row of accusations and threats were again brought down to Damascus in connection with its supposed intention to use chemical agents in the province of Idlib," the Russian Foreign Ministry representative said.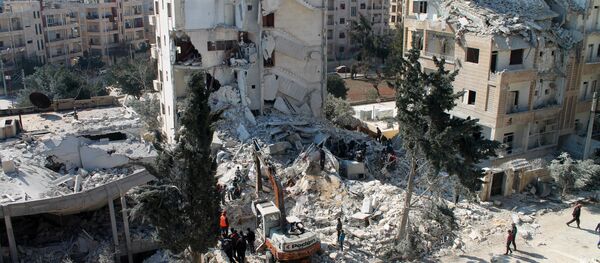 11 September 2018, 15:17 GMT
Later in the day, Russian Ambassador to the United Nations Vassily Nebenzia stated that the US-led coalition in Syria should divulge its plans of future operations in the Syrian province of Idlib.
"We would like as well to have the coalition share their plans on Syria with us," Nebenzia said in comments after US Ambassador to UN Nikki Haley delivered a statement.
Nebenzia noted that many countries have called on Moscow and Damascus to reveal their strategies for Idlib.
The statements were made amid a tense situation in Syria's Idlib: earlier in the day the Russian Center for Syrian Reconciliation reported that fake footage of "chemical attacks," designed to facilitate the implication of Syrian government forces, was being produced in the province.
READ MORE: Staged Filming of Mock 'Chemical Attacks' Has Begun in Idlib — Russian MoD
The information follows Sunday's Wall Street Journal report that the US Defense Department was mulling the idea of striking Russian or Iranian military forces aiding the Syrian government if the latter were to launch an assault on Idlib. The report added that the United States would specifically decide whether to strike Russian air defense installations.
READ MORE: Attack on Syria's Idlib Risks a Severe Security Crisis — Erdogan