According to Military.com, officials ordered the move after concerns sprung up earlier this year that bad weather and salt in coastal areas could cause "strap pack nuts" on rotary blades to wear out faster than normal. It was previously reported in February that technicians were inspecting choppers before and after flights.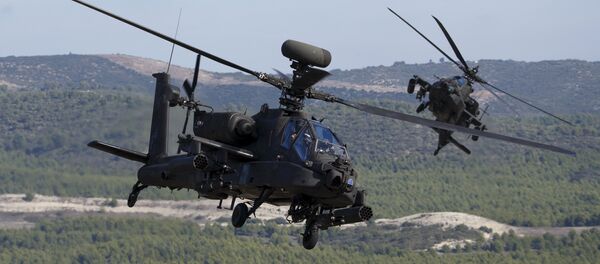 10 August 2017, 10:52 GMT
Maj. Gen. Douglas Gabram, head of the US Army's Aviation and Missile Command, told the website that officials are now installing a fail-safe collar dubbed the "mega nut" on aircrafts to prevent any issues in the future.
News of the fastener fix comes after it was revealed in April by Defense News that the US Army had stopped accepting deliveries of the AH-64E attack helicopters from Boeing in March over their concerns.
New shipments of the Apache choppers ultimately resumed in August. The installation of the new "mega nut" is being installed at no cost to the US government or Foreign Military Sales customers, Brig. Gen. Thomas Todd told Defense News.
The "mega nut" is expected to be placed on all service choppers by the end of 2019. Units that tend to fly in severe, coastal environments will be the first to have the "mega nut" installed.
Currently, only 19 percent of the service's Apache choppers have seen the latest add-on, Military.com reported.