"The environmental lawyers argue that the construction documents are incomplete and inaccurate, as they fail to consider the impact the pipeline will have on marine wildlife in the Baltic Sea," the statement read.
The construction of the pipeline, approved by the Swedish Ministry of Enterprise and Innovation in early June, will require detonating WWII ammunition that was buried at sea, something that could seriously harm marine wildlife, according to ClientEarth.
"The construction of the gas pipeline will also have adverse effects on the development of clean, renewable energy in Central Eastern Europe," Marcin Stoczkiewicz, the head of ClientEarth's Central and Eastern Europe operations, was quoted as saying in the statement.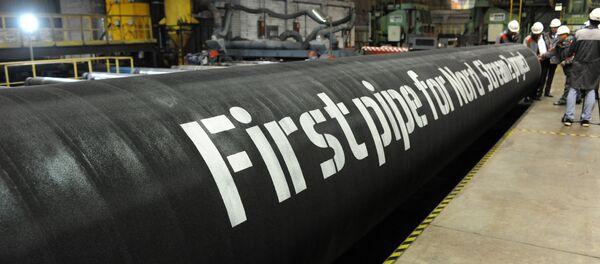 4 September 2018, 10:38 GMT
READ MORE: Nord Stream 2 'Unstoppable' Now — Media
The Nord Stream 2 is a joint venture of Russia's Gazprom with France's Engie, Austria's OMV AG, UK-Dutch Royal Dutch Shell, and Germany's Uniper and Wintershall. It aims to deliver 55 billion cubic meters of Russian natural gas a year to the European Union. An extension of the existing Nord Stream pipeline, Nord Stream 2 will run across the territories of Russia, Finland, Sweden, Denmark and Germany. According to plans, it will become operational at the end of 2019.
READ MORE: Sweden Can't Stop Nord Stream-2 Construction — Ambassador to Russia