"Was the Federal Migration Service [FMS] database hacked just today? London had made an announcement about Petrov and Boshirov long ago … So, not a single database was hacked before? No, it was not. Because another idea was promoted: these people just do not exist [as the names were said to be fictitious]. This is what the UK police said, posting their photos. Now the people are found. But the main question is different. Why Bellingcat finds it easier to 'hack the FMS database' overnight rather than get any evidence of the 'involvement' of Petrov and Boshirov in the poisoning?" Zakharova wrote on Facebook.
WATCH Skripal Poisoning "Suspects" Reveal Why They Visited Salisbury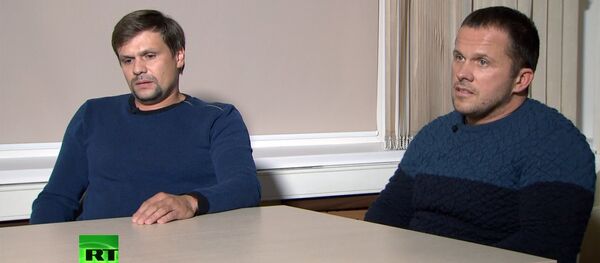 14 September 2018, 14:37 GMT
She stressed that the UK investigative blogger group had five months to present to the public photographs, screenshots, videos, anything that would at least raise suspicions against Petrov and Boshirov but failed to do so.
Earlier in the day, Bellingcat and The Insider reported that their joint investigation confirmed, through uncovered passport data, that the two Russian nationals were linked to Russian security services. Such an assumption was explained by the fact that the men's internal passports under these names were issued in 2009, while no records allegedly exist for these two individuals prior to this year.
READ MORE: 'We Found Them': Putin Says Russia Knows Who Salisbury Incident Suspects Are
The report comes a day after the RT broadcaster released the interview with Petrov and Boshirov, in which the men refuted any involvement in the Skripal case, saying that they had no relation to the Russian military intelligence service (GRU) and visited the United Kingdom as tourists. The UK Foreign Office called the interview "obfuscation and lies."