"Our air defences responded to an Israeli missile attack on Damascus international airport and shot down a number of hostile missiles," Syrian state news agency SANA cited a military source as saying. There was no immediate report of casualties or damage.
Several powerful explosions occurred in Damascus at 9:50 p.m. (6:50 GMT) on Saturday.
منذ قليل أثناء التصدي للصواريخ المعادية قرب مطار دمشق الدولي؛ سمع أصواتها في كافة انحاء العاصمة. pic.twitter.com/9ZRDlzoIQ8

— āƀʯ ɭɦāȿʂāɲ™ (@j_nehmeh) 15 сентября 2018 г.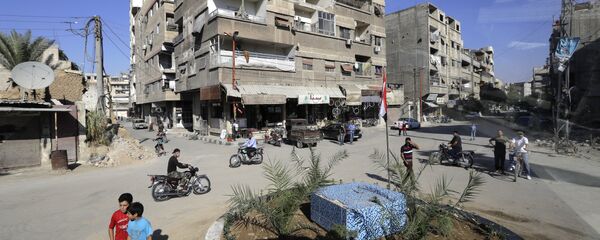 10 September 2018, 13:11 GMT
The source said that the assault inflicted only material damage, with no casualties reported. Shortly after the report, a spokeswoman for the Israeli army declined a Sputnik request for comment.
According to AFP, this month Israel acknowledged having carried out over 200 strikes inside Syria over the past 18 months, mainly against Iranian targets. Syrian state media last reported Israeli strikes on September 4, when it said its air defenses downed several missiles in the coastal province of Tartus and in central Hama.
In May, Israel hit dozens of Iranian targets in Syria after Iranian forces allegedly fired 20 rockets at Israeli positions in the Golan Heights. Tehran denied having military bases in Syria.
READ MORE: Israel Admits to Giving Guns to Anti-Government Extremists in Syria
Israel is one of the main US allies in the Middle East and a major consumer of US arms and military equipment. The two states share a foreign policy stance on Iran to minimize Tehran's influence in the region and in war-torn Syria.