UK authorities are looking for a medic, nicknamed Dr. Novichok, and a fourth individual who allegedly helped Ruslan Boshirov and Alexander Petrov perpetrate the attack on former GRU colonel Sergei Skripal and his daughter Yulia in Salisbury in March, the Sunday Mirror reported.
"It's believed they could have met a handler who was working at the embassy and a fourth, the medic, might have had oversight of the whole thing to make sure they didn't risk ruining the operation by getting themselves contaminated," the Sunday Mirror cited an unnamed government source as saying.
The insider claims that the duo could have met with the two other suspects after checking into the City Stay Hotel in East London.
READ MORE: Russia Ready For Serious Talks With London on Skripal Case — Lavrov
Other sources cited by the media outlet said that the police knew the real identities of Petrov and Boshirov.
"They've had hundreds of officers trawling CCTV and the facial recognition software meant they could match them with passports used in the years leading up to the attack."
Earlier this week, Petrov and Boshirov broke silence in an interview with Sputnik and RT editor-in-chief Margarita Simonyan, confirming that these were their real names and that they were depicted on the pictures published by the UK authorities.
READ MORE: Skripal Poisoning "Suspects" Tell Sputnik, RT Editor-in-Chief They're Not Agents
The duo revealed that they visited Salisbury as tourists at the advice of friends, but the town was "covered by this slush," and they spent less than an hour there, "mainly because of the lags between trains."
Both Petrov and Boshirov have also denied the UK's claims that they were military intelligence agents.
"We are not [working in the GRU]… We are mid-level entrepreneurs. If we tell more about our business, people we work with will suffer, we do not want this," they said, but added that the business was linked to the fitness industry.
The suspects further noted that they hoped that London would apologize to them after finding the real perpetrators, because the accusations had left their lives in tatters and they are now concerned about their own lives and those of their families.
"We hope that this situation will be resolved, that the UK side will apologize to us, that they will find those involved in this situation with Skripal," they said.
UK Releases New Data on Skripal Case

Last week, UK authorities charged Petrov and Boshirov with carrying out a botched nerve agent attack on the Skripal family, with the Metropolitan Police releasing images of the suspects and claiming that they were Russian military intelligence officers.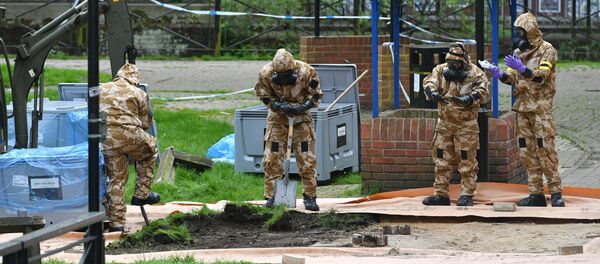 14 September 2018, 18:05 GMT
The police also published a picture of what is said to be a Novichok-filled bottle of perfume, which the two alleged suspects purportedly sprayed on Skripal's front door.
Moscow has repeatedly denied the accusations, saying that neither names, nor photos of the suspected individuals proved that they had any links to Russian military intelligence agencies.