A group of 93 South Korean officials, journalists and technical staff left for North Korea on Sunday to prepare the upcoming summit of North Korean leader Kim Jong-unn and his South Korean counterpart Moon Jae-in, the Yonhap news agency reported. The South Korean delegation used a land route to get to North Korea, with as many as 19 buses being used for their trip.

15 August 2018, 09:16 GMT
The first meeting of the two leaders was held at the Panmunjom truce village on April 27. Less than in a month the two counterparts met once again. The forthcoming meeting is expected to be devoted to the issues relating to the implementation of the declaration signed at Panmunjom.
On Friday, Seoul and Pyongyang opened a liaison office in the city of Kaesong, located just north of the border between two countries.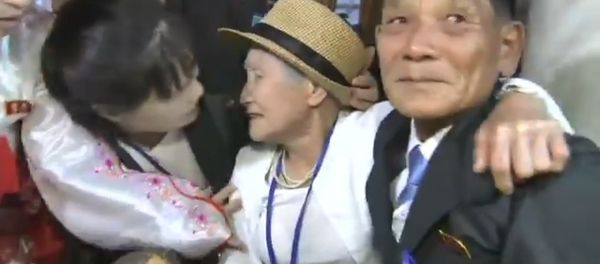 20 August 2018, 22:55 GMT
During the talks with Trump Kim pledged to ensure denuclearization of the Korean Peninsula.
According to the joint declaration signed by Kim Jong-un and Moon Jae-in, Pyongyang and Seoul agreed to adopt practical measures to connect railways on the peninsula.
As the first step of this process, the countries will connect and modernize railways and roads on the eastern transportation corridor, as well as between Seoul and North Korea's city of Sinuiju.