Germany keeps the doors to its domestic gas market wide open to all suppliers, a government spokeswoman, Martina Fietz, said during a regular government news briefing in Berlin on Monday.
She added that it was up to the traders and distributors working on the German gas market to decide on specific supply conditions.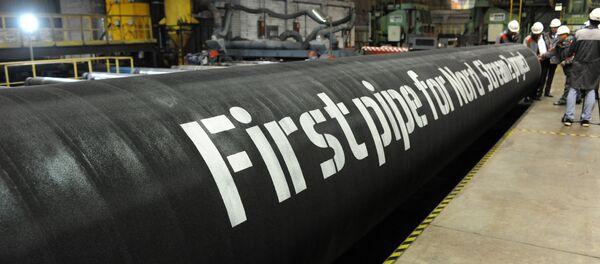 24 August 2018, 14:07 GMT
The newspaper Bild earlier reported that US companies expect to start delivering liquefied natural gas (LNG) to Germany not later than in 2022.
Germany has already announced plans to build a $500-million LNG terminal on the Elbe River in Brunsbüttel in the north of the country.
It will be Germany's first such plant when it goes on-stream by the end of 2022.
However, US LNG still costs more that Russian piped gas. Gazprom has recently lowered its prices to protect its market share amid a move by EU countries to buy more gas from the US, Qatar and other exporters.
Last year Russian gas exports to Europe jumped 8.1 percent to a record 193.9 billion cubic meters, accounting for a hefty 40 percent of Europe's gas consumption.
The Nord Stream 2 pipeline, currently under construction, will deliver 55 billion cubic meters of Russian natural gas a year to the European Union, across the Baltic Sea to Germany.
READ MORE: Germany Ready to Pay Twice as Much for US Gas to Avoid Dependence on Russia
An extension of the existing Nord Stream pipeline, Nord Stream 2 will traverse the sea territory of Finland, Sweden and Denmark before reaching Germany.
It is scheduled to become operational at the end of 2019.