Sputnik: What do you make of Theresa May's comments that the Chequers plan is the only way to stop the UK being carved up?
Michael Swadling: I think that's preposterous that a Prime Minister of Great Britain would ever suggest there is a possibility of the UK being carved up. She said it's Chequers or no deal – I agree with here in the sense that it's either we remain in the EU in name only in effect or we remain on WTO terms and that's really what the choice facing us is. The Chequers plan is remaining in the EU in all but name and there is no no deal – we revert to WTO terms, we trade on the basis that we trade already today with some of our largest trading partners. I'm sure your listeners will realise that they can buy products in China, they can buy products in the United States, these are not countries in the EU. We trade perfectly well with them and we can do that with the remaining 27 when we leave the EU next March.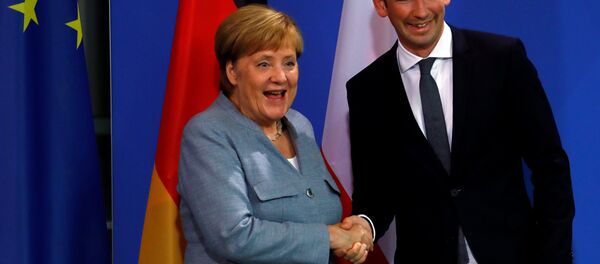 17 September 2018, 12:11 GMT
Sputnik: Sinn Fein leader May Lou McDonald has said that the Brexit vote has now opened up the possibility of a future referendum on Irish unity. How do you think the Irish question is going to influence MP's voting on the Chequers' plan?
Michael Swadling: Sinn Fein's role, Sinn Fein's entire reason for being is a united Ireland. Whether you agree with that or not, they are likely to say the change in flavor of cornflakes would open up a reason for a united Ireland – any reason they can give would be a reason for a united Ireland. There simply is no reason it's to do with Chequers, it's to do with Brexit. The underlying stats… Polling this year has gone from 20 percent to 40 percent and back again for people who want a united Ireland. Frankly I don't believe them. You look at the elections — the unionist parties always outdo the republican parties. Sinn Fein want to call an election for a united Ireland. But we look at that border – there's a border there today – there's a border for that, there's a border for business rules, there's a border for tax and all we are talking about is once we leave the EU there will a bit more of a border – not physically but in reality there are certain types of trading on different sides of that. That happens across the world today, it happens within countries, it happens within the UK now of course – between England and Scotland for income tax. So, if you can cope with that there is no need – Brexit should not change the situation in Ireland at all.
The views expressed in this article are those of the speaker, and do not necessarily reflect those of Sputnik.