Last week the European Research Group, a group of Conservative MPs who support a "hard Brexit", published a paper which set out its plans for the Irish border after March 2019.
It comes amid growing fears a "no deal" on Brexit would lead to the reintroduction of a hard border between Ulster and the Republic, something which could even resurrect the Provisional IRA or other Irish republican dissident groups.
But the ERG claimed technology could be used to carry out most checks without the need to stop people or vehicles unnecessarily and it referred to the "invisible border" between Sweden and Norway.
Are there EU land frontiers which offer hope to Brexiteers?
Sweden — Norway
Before the 2016 referendum, many Brexit supporters claimed Britain could just follow the "Norway model".
Norway is not a member of the EU, but is part of the European Economic Area, allowing it to be part of the EU's single market.
But Theresa May's government has already ruled out using the Norwegian model, which is based on the fact that Norway is a major exporter of gas and oil to the rest of Europe. 
Norway has a huge land border with EU member Sweden — almost 1,000 miles long and traversing some of the coldest, most mountainous and inhospitable territory in the world.
There are around 80 crossing points but the busiest ones are in the south, near Oslo.
One of the crossing points is the 700-meter long Svinesund Bridge, which was opened in 2005 and crosses Iddefjord, south of Oslo.
Because Norway is in the Schengen area there is no need for passport checks.
Unlike airports, the land border does not have double customs checks so only Norwegian officials check vehicles traveling into Norway and cars and trucks heading the other way are only checked by Swedish guards.
Norwegian customs are mainly on the lookout for alcohol being brought in by smugglers who are keen to supply customers in Norway who are used to expensive and heavily-taxed alcohol.
In the first six months of last year, they seized 322,000 liters of beer and 47,000 liters of spirits.
There are some similarities between the Irish and Norwegian borders.
The Irish border did not exist before 1922 and the Norwegian frontier only came into play in 1905 when the union between the two countries was broken up.
Britain and Ireland are generally good neighbours — with a shared language — as are Sweden and Norway, who are ethnically close.
Greece/Bulgaria — Turkey
Matters are very different in the far south-east of Europe.
Turkey is the jumping-off point for thousands of migrants seeking to enter the European Union from the Middle East and Asia. It has also been a country through which many Daesh* terrorists have passed on their way to and from terrorist atrocities in western Europe.
Greece and Turkey are ancient enemies and have fought a war as recently as 1974 and this mutual suspicion was increased in 2016 when eight Turkish soldiers fled to Greece in a helicopter after the bungled coup plot.
Bulgaria also has a border with Turkey and in recent years migrants have sought to cross it and head north into Romania, Hungary and Austria.
Along the Turkish frontier, entering the EU, passport control and vehicle checks are thorough and there are often long queues of cars and trucks.
France/Germany/Italy/Austria — Switzerland
Switzerland is an island of economic prosperity and neutrality deep in the heart of Europe and the EU is naturally its largest trading partner.
Amazingly Switzerland is also the EU's third largest trading partner — behind the US and China.
More than five percent of the EU's imports come from Switzerland — mainly chemicals, pharmaceuticals, machinery, chocolate and of course clocks and watches.
Unlike Norway, Switzerland is not part of the European Economic Area, because in 1992 Swiss voters — mainly in the German- and Italian-speaking cantons — voted against joining the single market.
In 1993 the Swiss government also dropped plans to negotiation entry into the EU and in 2016 Switzerland formally withdrew its application for EU membership.
But in 1999 the Swiss signed a series of treaties with the EU which allowed for the free movement of people, eased the crossing of road and air borders and included agreed rules on agriculture, science and public procurement.
Up to 300,000 workers cross into Switzerland every day from France, Germany, Italy or Austria while Swiss citizens often head in the opposite direction looking for bargains — especially food, which can be prohibitively expensive in Switzerland.
A reporter from Ireland's Independent newspaper visited the Bardonnex crossing near Geneva in June last year and found traffic moving freely across the border, with customs officials only occasionally swooping on certain cars which alerted their suspicions — such as a Mercedes with an Albanian registration plate.
Croatia — Serbia/Bosnia
In the 1980s the Iron Curtain was the obvious frontier between the European Union and eastern Europe but the fall of communism and the break-up of Yugoslavia meant a series of nations queuing up to join the EU.
Croatia was the most recent country to join the EU — in July 2013.
Serbia was accepted as a candidate for EU entry in 2012 and earlier this year was told it and neighboring Montenegro may possibly join the bloc in 2025.
Bosnia-Herzegovina applied for membership in 2016.
But until the mid-1990s the Balkans was a war zone and the hatred and enmity between Serbia, Croatia and Bosnia have not entirely dissipated.
The city of Vukovar in eastern Croatia was virtually destroyed by the Serbian-dominated Yugoslav Army (JNA) during an 87-day siege in 1991 but tensions remain in the rebuilt town with the Croatian police tearing down Cyrillic signs which were erected in 2013 to comply with EU language rules.
In recent years the fears have been less about Serbian invaders but hordes of migrants.
During the 2015 migrant crisis seven of the eight border crossings between Serbia and Croatia were closed as thousands of refugees headed north after getting into Greece from Turkey.
Hungary had similar problems along its border with Serbia and erected fences to keep out migrants.
Finland — Russia
Since 1945 the long, heavily forested border between Finland and Russia (or before it, the Soviet Union) has been a closely watched border.
© Sputnik / Igor Zarembo /
 / Go to the mediabank
Work of border guards on Russian-Lithuanian border in Ribachy village, Kaliningrad region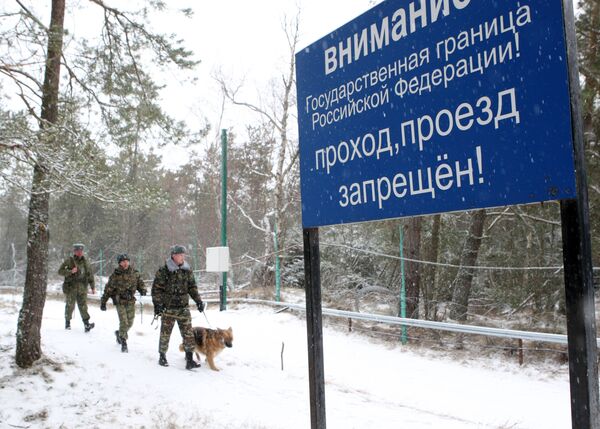 Work of border guards on Russian-Lithuanian border in Ribachy village, Kaliningrad region
© Sputnik / Igor Zarembo /
/
For many years the Finns feared Soviet tanks would roll across the 833-mile frontier.
The fall of communism led to the gradual demilitarization of the border and a growth in trade between Helsinki and Moscow.  
More recently there have been some concerns about the possibility of migrants using the border to enter the EU through a very circuitous route but so far it remains a trickle.
In June,
Reuters reported
five people — of Nigerian, Moroccan and Chinese nationality — had been detained in Finland after entering the country illegally from Russia during the World Cup.
Poland — Belarus/Ukraine
Poland has been a member of the EU since 2004 and millions of Polish citizens have taken advantage of freedom of movement to get jobs in Britain, Germany and France.
But ironically they are rather less keen to let people into Poland.
The Poles have long borders with Belarus, the Ukraine and also with the Russian enclave of Kaliningrad.
There can often be long queues at motorway border crossings as Polish border guards check passports and visas and customs officials inspect trucks and vans.
Lithuania and Latvia also have closely monitored borders with Belarus while Estonia and Latvia have borders with Russia.
Because many of these countries were part of the Soviet Union there remains a lot of economic links between them as well as families and friends who pass between them, especially between Estonia and Russia.
*Daesh (Islamic state, ISIS, ISIL) is a terrorist group banned in Russia