South Korean President Moon Jae-in on Wednesday for the first time spoke before the North Korean public at a large stadium in Pyongyang, where 150,000 people gathered to listen to his speech, a Sputnik correspondent reported from the Seoul press center, which receives all information about Moon's visit to Pyongyang.
"Let's take a big step toward peace and enter a new future together," Moon said, addressing Pyongyang residents.
READ MORE: North Korea Can't Abandon Its Nuclear Weapons — Scholar
North Korean leader Kim Jong Un stood on the stage near his South Korean counterpart.
Introducing the South Korean president, Kim said that "this event today will become a wonderful moment in history."
The situation on the Korean Peninsula has significantly improved since the start of the year, with Kim and Moon earlier holding two other bilateral meetings in April and May.
In June, Kim reached an agreement with US President Donald Trump stipulating that North Korea would make efforts to promote complete denuclearization in exchange for the United States and South Korea ceasing their joint military drills, as well as potential sanctions relief.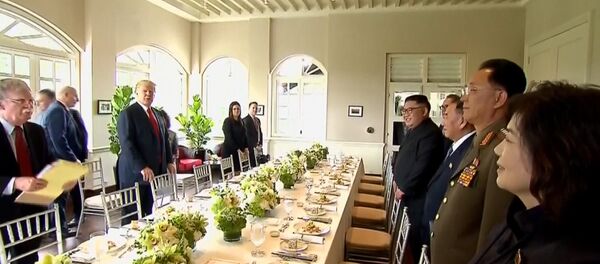 19 September 2018, 14:11 GMT
According to the joint statement, which outlined the results of the Kim-Moon meeting on Wednesday, Pyongyang has promised to close its missile test range in Tongchang-ri and completely disassemble its nuclear facilities in Yongbyon, while Seoul and Pyongyang have agreed to start working to connect their roads and railways before the end of the year.
In addition, the North and South Korean defense ministers signed a military agreement following the summit. Under this accord, the two Koreas pledged to create a joint military commission to enhance mutual trust, and establish in the border regions of the Yellow Sea and the Sea of Japan a zone where military drills would not be held.