"In case of relevant requests from the Joint Investigation Team [JIT], a possibility to conduct an additional analysis [of documents related to Buk] will be considered," the Defense Ministry said in a statement.
On Monday, the Russian Defense Ministry presented declassified files on the Buk missile that hit flight MH17 in 2014, showing that the missile was made at Russia's Dolgoprudny Plant in 1986, delivered to a military unit in Ukraine, where it remained after the Soviet Union collapsed in 1991.
READ MORE: 'Ukrainian Authorities Deliberately Sent MH17 Airliner Into Warzone' — Historian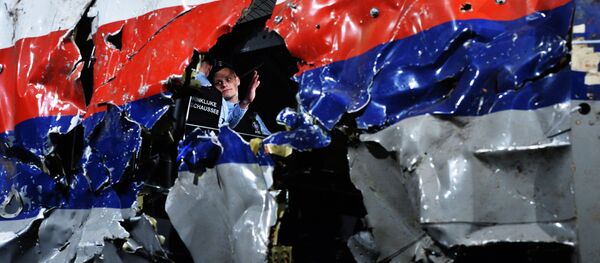 18 September 2018, 17:34 GMT
On July 17 in 2014, Malaysia Airlines Flight 17 crashed in eastern Ukraine, while en route to Kuala Lumpur from Amsterdam, leaving no survivors. Kiev and self-proclaimed republics in Ukraine's southeast have blamed each other for the tragic incident.
The Dutch-led Joint Investigation Team (JIT) concluded that the plane was brought down by a missile which came from the 53rd Anti-aircraft Missile Brigade of the Russian Armed Forces, based near Russia's Kursk. In its turn, the Russian side has refuted the conclusions as groundless and called the investigation biased.