President Trump has revealed what he considered to be the biggest mistake in American history in an interview with The Hill, pointing the finger at his Republican predecessor George W. Bush.  
"The worst single mistake ever made in the history of our country: going into the Middle East, by President Bush," the President said. "Obama may have gotten [U.S.] soldiers out wrong, but going in is, to me, the biggest single mistake made in the history of our country."
Trump went on to claim that the US had spent a fortune on its military campaigns in the Middle East. "We spent $7 trillion in the Middle East. Now, if you wanna fix a window some place they say, 'oh gee, let's not do it.' Seven trillion, and millions of lives — you know, 'cause I like to count both sides. Millions of lives," Donald Trump added.
READ MORE: Trump 'Feels Terribly' for Kavanaugh, Slams 'Lousy' Dems Over SCOTUS Nomination
"To me, it's the worst single mistake made in the history of our country. (The US) Civil War you can understand. Civil War, Civil War. That's different. For us to have gone into the Middle East, that was a bad day for this country, I will tell you."
Donald Trump has put a price tag on the US-led campaigns that largely differs from other noteworthy official estimates. Last November, Brown University's Costs of War project claimed that by the end of fiscal year 2018, the US will have spent $5.6 trillion on post-9/11 wars.
The Pentagon's estimates are even more moderate than that: in July 2017, the US Department of Defense estimated the total cost of US military operations related to the wars in Iraq, Afghanistan and Syria in 2001-2018 at $1.52 trillion.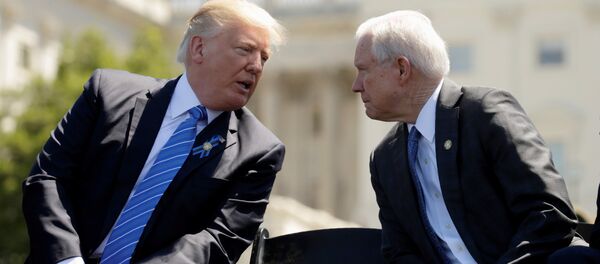 19 September 2018, 23:22 GMT
Washington launched the war in Afghanistan against the Taliban* following the September 11 terrorist attacks that brought down the twin towers of the World Trade Cetner. Despite losing outright control of the country during the initial invasion, codenamed Operation Enduring Freedom, the Taliban regrouped to resist the US-backed national government. Ever since, the country's political, social and security situation has remained unstable due to the ongoing insurgency.
In March 2003, George W. Bush spearheaded a war in Iraq, citing a relationship between Iraqi President Hussein and the infamous radical militant group Al-Qaeda, which took responsibility for the 9/11 attacks. A US-led coalition toppled Hussein soon afterwards, but gave rise to an insurgency that confronted the occupying forces and the post-invasion Iraqi government. Mistakes in postwar planning have increased the terrorist threat and fueled religious tensions in Iraq, which escalated into a civil war between the armed group Daesh and the Iraqi government, allied with another US-led coalition.
*The Taliban and Daesh (also known as ISIS/ISIL/IS) are terrorist groups outlawed in Russia