The United States has added 33 people and entities to its Russian defense and intelligence sector blacklist, meaning that anyone who does business with them will face mandatory US sanctions under the Countering America's Adversaries Through Sanctions Act, the State Department said in a press release on Thursday.
"The Secretary of State is adding 33 additional persons — both entities and individuals — to the CAATSA section 231 List of Specified Persons (LSP) for being a part of, or operating for or on behalf of, the defense or intelligence sectors of the Government of the Russian Federation," the release said. "Any person who is determined to have knowingly engaged in a significant transaction with any of these persons will be subject to mandatory sanctions under CAATSA section 231."
As State Department spokesperson Heather Nauer stated, commenting on the move, the US Administration will continue to implement the CAATSA and calls on other countries to stop contacts with Russian defense and intelligence sector figures.
"We will continue to vigorously implement CAATSA and urge all countries to curtail relationships with Russia's defense and intelligence sectors, both of which are linked to malign activities worldwide," Nauert said.
Russia has repeatedly denied accusations of elections meddling in different countries, calling them "absolutely unsubstantiated." Washington has initiated two independent probes to find the collusion between US President Donald Trump and Moscow, but no substantial evidence of the meddling has been found. 
Earlier in the day, US President Donald Trump has given the Department of Treasury the authority, under the International Emergency Economic Powers Act (IEEPA), to impose sanctions on Russia, the White House said in a press release.
READ MORE: US Anti-Russia Sanctions Ban Loans, Arms Export and Dual-Use Goods — State Dept
"I have authorized the Secretary of the Treasury, in consultation with the Secretary of State, to take such actions, including promulgating rules and regulations, and to employ all powers granted to the President by IEEPA and certain sections of CAATSA [Countering America's Adversaries Through Sanctions Act] and UFSA [Ukraine Freedom Support Act] as may be necessary to carry out the purposes of the Executive Order," the release said.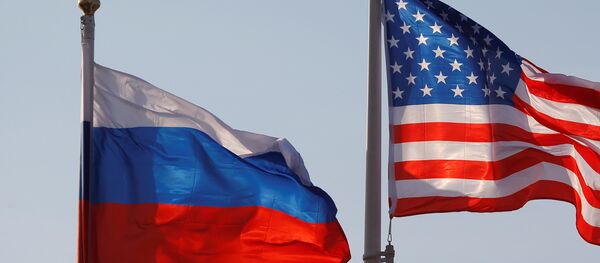 23 August 2018, 04:38 GMT
The Treasury Department declared that these sanctions may result in freezing all property and interest in property of sanctioned individuals, prohibitions on financial transactions transfers of credit or payments between the institutions, denial of visas and travel to the United States.
The extended section of the IEEPA could be applied to making donations for the benefit of a sanctioned individual whose property in the United States is blocked.
In August, the US administration announced new sanctions against Russia, consisting of two packages, due to its alleged use of chemical weapons against Russian former intelligence officer Sergei Skripal and his daughter Yulia in the UK city of Salisbury in March.
The first wave of restrictions took effect on August 22.
Russia has repeatedly denied involvement in the Skripal case, stressing that London has neither provided evidence nor cooperated with Moscow in investigating the incident.