A sinkhole the size of a football field has opened up on a popular beach in Australia's Queensland.
According to local environmental specialists, the hole, the size of nearly three football fields, near Rainbow beach, described as a "nearshore landslip" that appeared on Sunday night was probably caused by tides, waves and currents undermining the coastline.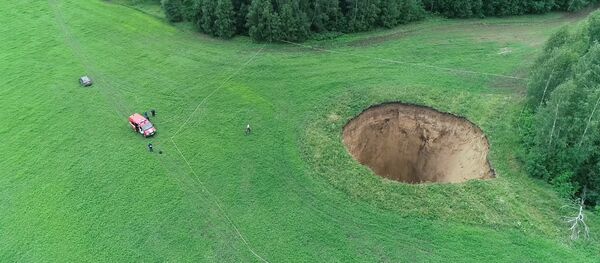 Local authorities urge swimmers to stay away from the hole, warning of strong currents and unstable sand.
Greg Pearce, a local skipper, said he traveled past the spot in his boat in the wee hours of Monday and watched the water lapping the heavily eroded sand banks.
"That was beach yesterday afternoon – there were people walking along that section," he said.
"We could see [the hole] forming, could see stirred-up water and the beach eroding," he added.
The sinkhole opened up not far from the one that snapped up a caravan, a car and tents in September 2015.
No one was injured in that incident, but it still forced the evacuation of a seaside campground, leaving the authorities struggling to retrieve expensive gear, including a caravan, a car, a trailer and tents.
READ MORE: Drain the Swamp? Sinkhole Opens on White House Lawn Near Briefing Room (PHOTOS)
A sinkhole can range anywhere between a slight depression in the ground right up to an enormous hole reaching down hundreds of feet. The world's deepest sinkhole is in Chongqing, China, reaching down 662 meters (2,100 feet).