The protests, which were organized by the Time's Up organization, saw activists lined up outside the offices of Sen. Susan Collins (R-Maine) and Jeff Flake (R-Ariz.), two officials who are both undecided voters on the Senate Judiciary Committee. Protesters were dressed in all black, with some wearing shirts that read, "Be A Hero." Various signs and slogans in support of Ford were also seen and heard outside of the Capitol Building.
​As protesters chanted various slogans, including, "We will not be silenced" and "We believe the women," members of the US Capitol Police arrested them and led them away from the demonstration.
​Demonstrations were also held all across the US.
​Some of the demonstrators included students from Kavanaugh's alma mater, Yale Law, USA Today reported, citing website Law.com. Veronica Guerrero, a member of the group called Yale Law Students Demanding Better, told the site that students were heading to Washington to "demand that the law does not marginalize groups that are already marginalized in broader society."
Yale students who stayed on campus protested in other ways, such as organizing a sit-in. Classes at the prestigious school were cancelled in order to make time for the demonstrations, and Sen. Richard Blumenthal (D-CT) made an appearance on the grounds to offer his thoughts on the matter.
​Celebrities, too, have joined in to offer their support to Christine Blasey Ford, who accused Kavanaugh of assaulting her during a high school party, and Deborah Ramirez, who recently voiced allegations that Kavanaugh had exposed himself to her at a Yale dorm party. Ramirez has alleged that Kavanaugh thrusted his penis onto her face, forcing her to touch him without her consent as she pushed him away. The allegations were revealed Sunday by The New Yorker.
​In the hours since Ramirez's story was published, Kavanaugh has doubled down and rejected both allegations of sexual misconduct.
"These are smears, pure and simple. And they debase our public discourse. But they are also a threat to any man or woman who wishes to serve our country," Kavanaugh said in a statement addressed to Senate Judiciary Committee members. "Such grotesque and obvious character assassination — if allowed to succeed — will dissuade competent and good people of all political persuasions from service."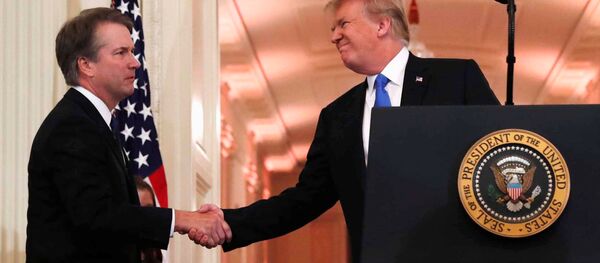 24 September 2018, 13:11 GMT
"I will not be intimidated into withdrawing from this process. The coordinated effort to destroy my good name will not drive me out. The vile threats of violence against my family will not drive me out. The last-minute character assassination will not succeed," the statement continues.
Kavanaugh and Ford are expected to testify on Thursday.
Ford has alleged that in the early 1980s, when she and Kavanaugh were in high school, Kavanaugh sexually assaulted her at a party. Kavanaugh along with his friend, Mark Judge, allegedly pushed Ford into an empty bedroom and kept her from leaving for a period of time before she was able to escape. Judge, mirroring Kavanaugh, has rejected the allegations and stated that he has no memory of the incident.